A nutty crunchy peanut filling; combo of tamari, soy sauce, earthy cumin and smoked paprika, topped with crispy cheesy golden velvety potato is an assault on your senses as you bite into this Red Dragon Pie. It's like biting into a deep intoxicating pie of whoopee.  Fragrant aromas of thyme and coriander waft through. Visually and taste-wise, the potato topping nicely compliments the aduki beans and peanut filling.
Make this dish:
When ready to have a grounding yet heartening Sunday lunch
When your mates are coming over for game night and you want nosh that is warming
When it's a cold autumn evening and you wanna lounge in front of the screen
Hit me up on @ethivegan and I'll share a story of dish you make.
What to do next
Tag me on @ethiveganquantum on Instagram to show me what you've made and let me know you're happy for me to share.
My recipes are featured in vegan speciality publications: Nourished, Vegan Life, Plant Based and Vegan, Food and Living.
Order my first self-published book, "Essence: The Beginner's Guide to Veganism" part of the three-part Circle of Food series. My second book "Presence: The Ascending Vegan" – which explores how to maintain a vegan practice is out in 2027 – I have compiled all the chapters including recipes.
Going strong since 2013.
Love.
Edward x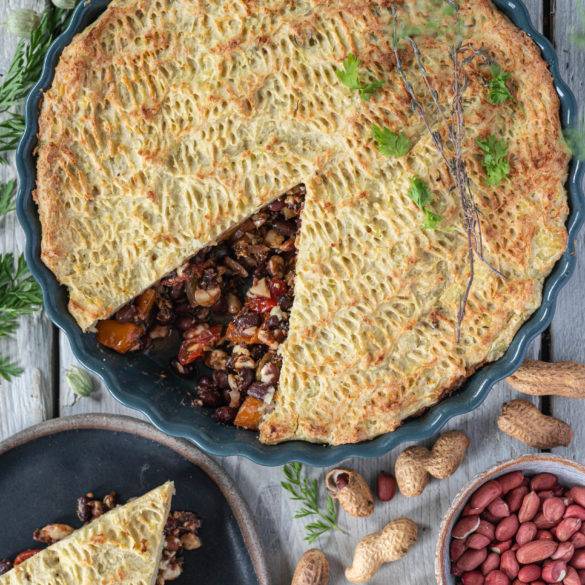 Ingredients
Topping
1kg Potatoes
200ml filtered water
25ml oats
25g nutritional yeast
Salt and pepper
Filling
200g Aduki Beans
100ml retained bean water
2 shallots
2 garlic cloves
4tbs extra virgin olive oil
150g peanuts
2 celery sticks
2 carrots, grated
400g plum tomatoes, chopped
leaves from sprigs, thymes
few sprigs, coriander
1tbs tomato puree
1tbs tamari
1tbs soy sauce
2tsp cumin seeds
1tsp smoked paprika
Salt and pepper
Instructions
Soak the aduki beans in water overnight.
Pre-heat the oven to gas mark 180 degrees Celsius or if you have a fan oven 160 degrees Celsius.
Place the aduki beans in fresh water in a pressure cooker. Cook for 5 minutes once the cooker starts to steam. Set to one side.
Boil the potatoes in boiling water for 20 minutes. Remove and drain.
Sauté the shallots with the garlic in olive oil until the shallots turn translucent.
In a chopper, roughly chop the peanuts and add to the shallots. Continue cooking for a few minutes until the peanuts start to toast.
Add the peanut mixture to the aduki beans with the celery, carrots, tomatoes, thyme, coriander, tomato puree, tamari, soy sauce, cumin, paprika and bean water. Stir and season to taste.
Lay the aduki bean mixture into a large ovenproof dish.
To make the topping, blend together the water and oats.
Using a potato masher, mash the potatoes. Add the oats, and nutritional yeast. Season to taste. Pour over the aduki beans until covered.
Cook in the oven for about 45 minutes.
Serve warm.