Red Dragon Pie was introduced to me a number of decades ago by my Welsh best friend, Kevin who loves red dragon pie. I love the textures of the aduki beans and peanuts which give this Red Dragon Pie a nutty crunchy feeling melded with the aromas of the thyme and coriander.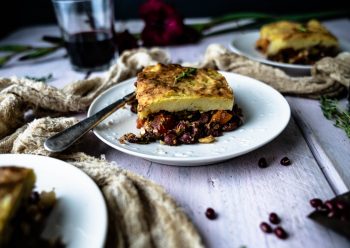 Ingredients
Topping
200g Aduki Beans
1kg Potatoes
200ml filtered water
25ml oats
25g nutritional yeast
Salt and pepper
Filling
2 shallots
2 garlic cloves
4tbs extra virgin olive oil
150g peanuts
2 celery sticks
2 carrots, grated
400g plum tomatoes, chopped
leaves from sprigs, thymes
few sprigs, coriander
1tbs tomato puree
1tbs tamari
1tbs soy sauce
2tsp cumin powder
1tsp paprika powder
Salt and pepper
Instructions
Soak the aduki beans in water overnight.
Pre-heat the oven to gas mark 180 degrees Celsius or if you have a fan oven 160 degrees Celsius.
Place the aduki beans in fresh water in a pressure cooker. Cook for 5 minutes once the cooker starts to steam. Set to one side.
Boil the potatoes in boiling water for 20 minutes. Remove and drain.
Sauté the shallots with the garlic in olive oil until the shallots turn translucent.
In a chopper, roughly chop the peanuts and add to the shallots. Continue cooking for a few minutes until the peanuts start to toast.
Add the peanut mixture to the aduki beans with the celery, carrots, tomotoes, thyme, coriander, tomato puree, tamari, soy sauce, cumin and paprika. Stir and season to taste.
Lay the aduki bean mixture into a large ovenproof dish.
To make the topping, blend together the water and oats.
Using a potato masher, mash the potatoes. Add the oats, and nutritional yeast. Season to taste. Pour over the aduki beans until covered.
Cook in the oven for about 45 minutes.
Serve warm.
Notes
By Edward Daniel, Vegan Chef and Former Chair of The Vegan Society. Contributor to Vegan Life Magazine, Plant Based Magazine, Vegan Food and Living Magazine and OK! Magazine. Speaker and cooking demonstrator at Vegan Life Life Festival London, Mind Body and Spirit Festival London, Veganes Sommerfest Berlin, and Bali Vegan Festival. Author of "Essence: The Beginner's Guide to Veganism".