Beetroot and Olive Strudel juxtaposes the tastes of the sweet beetroot with the salty olives.  I add lime juice just to add some depth to this dish.
What to do next
Tag me on @ethiveganquantum on Instagram to show me what you've made and let me know you're happy for me to share.
My recipes are featured in vegan speciality publications: Nourished, Vegan Life, Plant Based and Vegan, Food and Living.
Order my first self-published book, "Essence: The Beginner's Guide to Veganism" part of the three-part Circle of Food series. My second book "Presence: The Ascending Vegan" – which explores how to maintain a vegan practice is out in 2027 – I have compiled all the chapters including recipes.
Going strong since 2013.
Love.
Edward x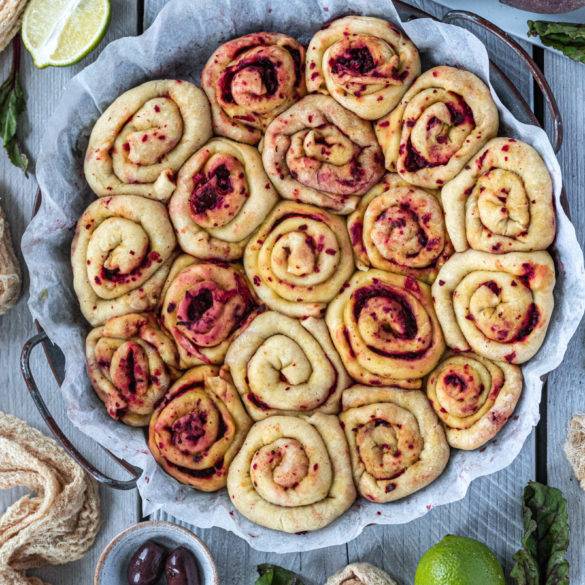 Ingredients
For pastry
400g "00" doppio flour
185ml filtered water
20g fresh yeast
1tsp raw unrefined cane sugar
50g olive oil
Pinch of salt
For filling
300g beetroot
100g olives un-pitted (or 75g pitted)
½ lime, juice
1 shallot, finely chopped
Oil for basting
Instructions
Mix the fresh yeast with the sugar and lukewarm water and leave in jug for about 30 minutes.
Place the flour in a large mixing bowl. Add the yeast mixture.  Then add the oil gradually, kneading well for about 5 to 10 minutes and roll into a ball.  Cover with a little water around the ball, cover and leave to one side for a couple of hours.
Make the filling by placing the beetroots in a processor with the pitted olives and lime juice. Combine well. Place in a large mixing bowl with the shallots.
Preheat the oven to gas mark 180 degrees Celsius or if convention oven to 160 degrees.
Break the dough into four pieces. Shape the dough into a rectangle. Cover the surface of a board with flour and roll the dough out into a much larger rectangle around 11 inches in length. Cut the dough length ways to about 1.25-inch (about 3cm) strips.
Place the strips on another board. the filling along the bottom edge of the dough strips and roll the dough around the filling. Repeat this action and place on to a baking tray lined with baking paper.  Ensure that the baking tray is firstly lined with oil.
Baste the strudels with oil and allow to rest for an hour.
Bake the strudels in the oven for 20 minutes.
Serve as a snack or as a side dish or main.