Gluten-free Vegan Samosas – gluten-free harks back to one of my mother's recipes. Often time she would make these samosas laced with ajwain seeds or more commonly bishops weed or carom seeds – just lift samosas. I serve my samosas with a mix of tamarind and date syrup – I will do a recipe up soon. For now these gluten-free vegan samosas are perfect as snacks, parties or starters. I bake these gluten-free vegan samosas but you can shallow fry too.
What to do next
Tag me on @ethiveganquantum on Instagram to show me what you've made and let me know you're happy for me to share.
My recipes are featured in vegan speciality publications: Nourished, Vegan Life, Plant Based and Vegan, Food and Living.
Order my first self-published book, "Essence: The Beginner's Guide to Veganism" part of the three-part Circle of Food series. My second book "Presence: The Ascending Vegan" – which explores how to maintain a vegan practice is out in 2027 – I have compiled all the chapters including recipes.
Going strong since 2013.
Love.
Edward x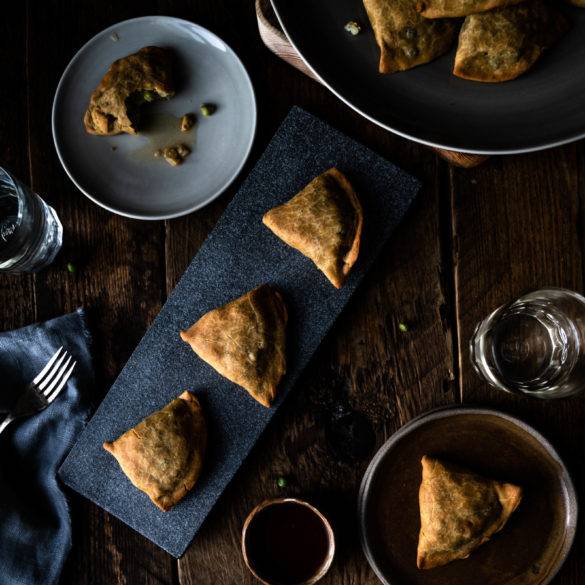 Ingredients
For pastry
260g chickpea flour
140g buckwheat
120ml filtered water
75ml olive oil
1tsp raw unrefined cane sugar
½tsp salt
For filing
500g fluffy potatoes
100g peas
1 shallot
1 chilli (optional)
1tbs ajwain seeds
½tsp salt
Oil for basting or shallow frying
Instructions
Measure out the dry pastry ingredients and place in a large mixing bowl. Add in the water and combine well with a spatula. Then add in the oil. Initially use a spatula and then knead for about 5 to 10 minutes. Knead into a ball. Drip some water to cover and encase the ball and set to one side for a couple of hours.
Skin the potatoes and cut into strips of 2 to 3 centimetres. Then cut into cubes of around 2 to 3 centimetres. Place in filtered water in a sauce pan as you go along so that the potatoes do not discolour. Bring the water to boil and boil for around 10 minutes under a medium heat. Drain the potatoes. Set to one side.
In a large mixing bowl, combine the potatoes with salt, ajwain seeds (carom seeds) and peas.
Measure out 50g balls of dough and set to one.
Line a baking tray with baking paper.
Take two sheets of baking paper – this ensures that is it easy to remove the dough. Place the dough between the baking paper and roll into a circle. Cut the circle in two with a knife. Place a teaspoon of the filling and place into the middle of one of the semi-circles of dough. Gently fold over the dough into a triangle. Add more filling as necessary. Fold over the sides. Pat the side and shape into a triangle as necessary. Place on the baking tray and repeat until completed.
Place the baking tray in the fridge for about an hour. Either preheat the oven to gas mark 180 degrees Celsius (or 160 degrees Celsius if fan oven) and baste the samosas with oil before placing in the oven and baking for 20 minutes or shallow fry the samosas in oil, whichever is your option. I baked mine in the photo and they still came out lush.