Beetroot and Radicchio Salad is one of my simpler salads.  I love the colours and textures to this dish. I love how the satsumas add contrast and depth to the beetroots and bitter radicchio.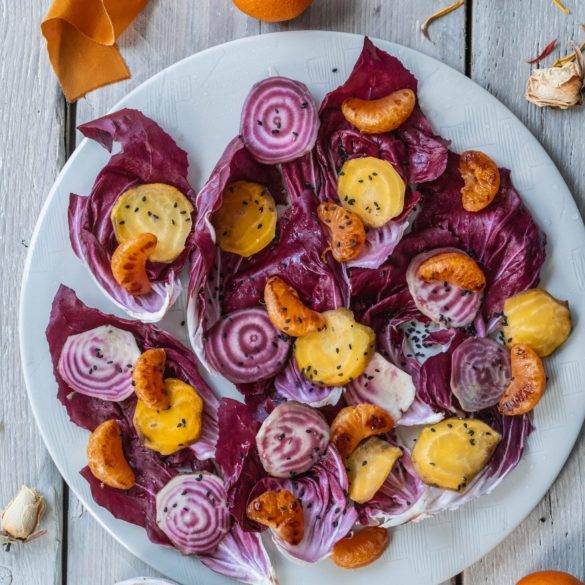 Ingredients
2 satsumas
1tbs olive oil
200g beetroots
1 radicchio
For dressing
1 satsuma
1tbs olive oil
1tbs grape molasses
1tbs white wine vinegar
Pinch of salt
Garnishing
1tbs black sesame seeds
Instructions
Slice the beetroot and place in filtered water until needed.
Make the dressing by placing the satsuma, oil, molasses, vinegar and salt in a blender and blend well. Set to one side.
Brown the 2 satsumas in oil in a frying pan. Lay in a serving dish with the radicchio.
When ready to remove the beetroot and bind all the ingredients together in the serving bowl.
Garnish with the sesame seeds.
Serve.
Notes
By Edward Daniel, Vegan Chef and Former Chair of The Vegan Society. Contributor to Vegan Life Magazine, Plant Based Magazine, Vegan Food and Living Magazine and OK! Magazine. Speaker and cooking demonstrator at Vegan Life Life Festival London, Mind Body and Spirit Festival London, Veganes Sommerfest Berlin, and Bali Vegan Festival. Author of "Essence: The Beginner's Guide to Veganism".