Bite into something schmaltzy. And, relax.
Mouth-watering soft gooey fudgy Beetroot Chocolate Brownies packed with bitter cacao, creamy almonds and millet.
This dish will burst your belief that vegan food could be super yummy.
Make this:
When you've got Uncle Joe over for super and great childhood memories resurface as you celebrate good times together
When the kiddies have come back from vigorous activity and a treat that'll have them smiling at your cheek to cheek is what's needed
When it's the Solstice you need to mark your longest day with fellow luminaries
Beetroot Chocolate Brownies were inspired when attending a farmer's market in Marylebone and picking up a freshly harvested bunch of beetroot. The smell of baked cakes wafted through the air and the notion of making Beetroot Chocolate Brownies came about.
Brownies are a fudgy cakey chocolate baked confection.
Beetroot Chocolate Brownies are vegan and gluten-free.
Love.
Edward x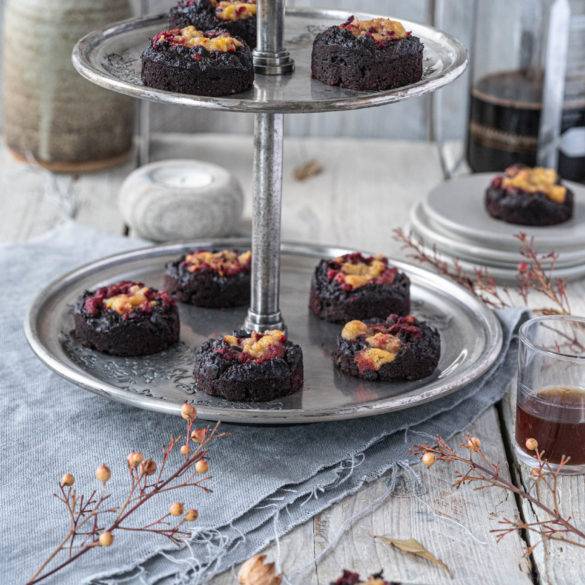 Ingredients
250g beetroot

100g almonds, blanched ground

75g millet

100g raw unrefined cane sugar

50g cacao powder

50ml olive oil

40ml filtered water

½ lemon, juice

Pinch of salt
Instructions
Pre-heat oven to 180 degrees Celsius or if you have a convention fan, to 160 degrees Celsius.
Line a cake tin with olive oil or a 12 mini cake tray.
Peel the beetroot.
In a food processor, blend the beetroot flesh with oil. Place in a large mixing bowl.
In a high-food processor grind the almonds, millet, sugar and salt. Transfer to the mixing bowl and swirl in with a spatula.
Tip out about 3 tablespoons of red dough into a separate bowl. Add in the cacao powder to the main mixing bowl. Mix well and pour into the baking tray.
Swirl in the red dough in to the baking tray.
Bake in the oven for 25 minutes.
Remove from the oven and allow to chill.
Serve.