Vegan Banana Bread is one of my more traditional recipes. This is actually a gluten-free version, which I am now happy with. Sometimes, it is a case of letting go and experimenting with food and seeing where it lands. I do not add sugar to this dish and prefer mashing half my bananas and leaving the rest sliced within. To this Vegan Banana Bread I like sprinkling banana chips.
What to do next
Tag me on @ethiveganquantum on Instagram to show me what you've made and let me know you're happy for me to share.
My recipes are featured in vegan speciality publications: Nourished, Vegan Life, Plant Based and Vegan, Food and Living.
Order my first self-published book, "Essence: The Beginner's Guide to Veganism" part of the three-part Circle of Food series. My second book "Presence: The Ascending Vegan" – which explores how to maintain a vegan practice is out in 2027 – I have compiled all the chapters including recipes.
Going strong since 2013.
Love.
Edward x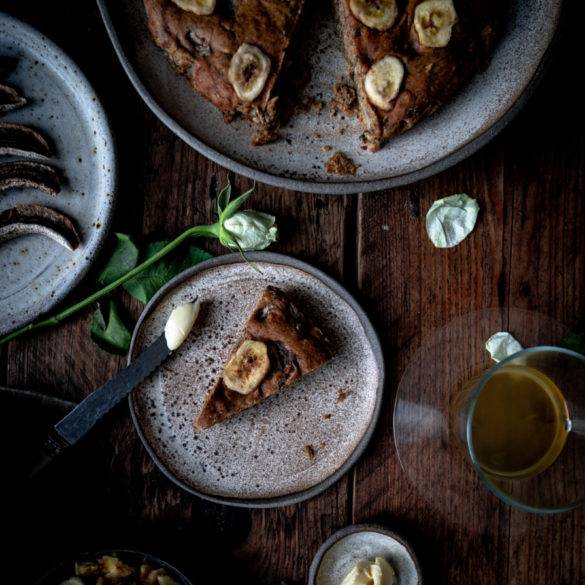 Ingredients
400g bananas, preferably ripe
80g millet
80g buckwheat flour
40g tapioca flour
10g oats
1tsp baking soda
Pinch of salt
60ml olive oil
60ml filtered water
1tsp vanilla extract
25g banana chips
Instructions
Pre-heat the oven to gas mark 180 degrees Celsius or if you have a fan oven 160 degrees Celsius.
Line a cake tin (or two 7- or 8-inch cake tins) with olive oil and set to one side.
In a food processor, grind the millet granules, buckwheat, oats. Place in a large mixing bowl with the tapioca flour, baking soda and salt. Mix well and set to one side.
In a separate bowl, add the oil, water and vanilla extract. Mix well.
Dish into the cake tin(s). Sprinkle over the banana chips but basting the top side of the chips with oil.  Cover with foil.
Bake in the oven for about 30 minutes, removing the foil after 20 minutes and bake until the crust turns into a light golden colour. Insert a skewer to test if it comes out clear to see if it is baked.
Remove from heat and set to one side until cool.
Serve with some vegan butter.