Get your pecker to explode with flavours as you get this Five Spice into your orifice.
Supercilious and fragrant cherry-candy-like scented cinnamon, sweet-liquorice star anise, mild anise-like fennel seeds, citrus Sichuan peppers and floral woody cloves meld together to make up this Five Spice.
Make this:
When you've just got back from work and there are some odds and sod veg in the fridge and you fancy getting a little creative
When you've got the lads over for a bevy and want to show off your Far East-esque cuisine skills – but in a powerful understated way
When you fancy a Chinese night and adding a Five Spice will spruce up your masterpiece
Cloves are an amazing natural anti-oxidant. Whereas the remaining ingredients pack in the aromas to this condiment. Often, referred to as Chinese Five Spice.
My own combo version uses more of the cinnamon and star anise and less of the Sichuan peppers and cloves which can be overpowering if used in larger quantities. comparatively. Well, that's my personal view.
Tag me on @ethivegan to show me what you've made and let me know you're happy for me to share.
Love.
Edward x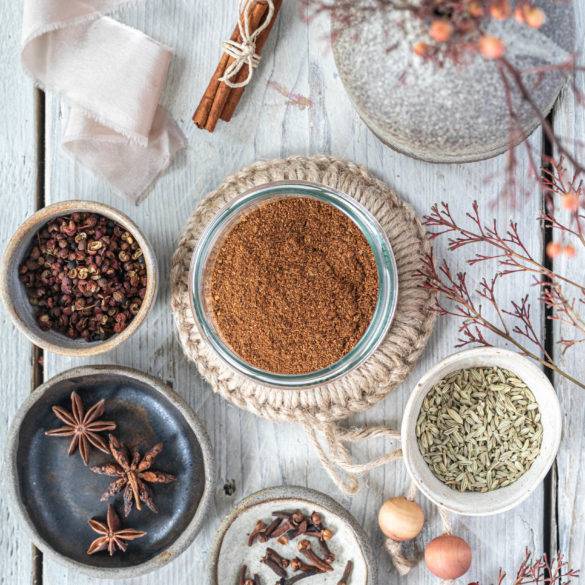 Ingredients
20g Cinnamon, sticks
20g Star Anise
1 tbs fennel seeds
½ tsp cloves of India
½ tsp Sichuan pepper
Instructions
Cut the sticks into small pieces by hand and place in a larger frying pan.
Add in the remaining ingredients.
Toast the spices over a medium heat until the fennel seeds start to turn a golden brown. Twitch off the heat and keep toasting. Remove and place in a grinder.
Grind the spices until fine.
Place the five spices in a sealed jar.