Spongy sandwiched chocolate cake with a burst cherry sauce topped with fluffy silky oat cream and chocolate shavings; Black Forest Gateau.
Dive into decadence. And, let your tastebuds go into a frenzy.
This dish will topple your belief that vegan food can't look super extravagant and taste equally yummy.
Make this:
When you're looking for a steamy night in with your beau/belle. Let food be your wildest fantasies
When you've got a wild party to organise. And, an extravagant dessert will have all your guests shrieking for more
When the traditional birthday cake won't cut it. Something will lots of cream and cherry. And, with you on top
Black Forest Gateau was inspired when I was a wee lad. This gateau was a firm favourite with my dad and brothers. It was super lavish, yet easy to assemble and looked the bees knees.
This sweet dish is vegan and gluten-free, and German cuisine.
What equipment to use
For this dish, I suggest:
High-speed blender
Stove
Oven
What to do next
Tag me on @ethiveganquantum on Instagram to show me what you've made and let me know you're happy for me to share.
My recipes are featured in vegan speciality publications: Nourished, Vegan Life, Plant Based and Vegan, Food and Living.
Order my first self-published book, "Essence: The Beginner's Guide to Veganism" part of the three-part Circle of Food series. My second book "Presence: The Ascending Vegan" – which explores how to maintain a vegan practice is out in 2027 – I have compiled all the chapters including recipes.
Going strong since 2013.
Love.
Edward x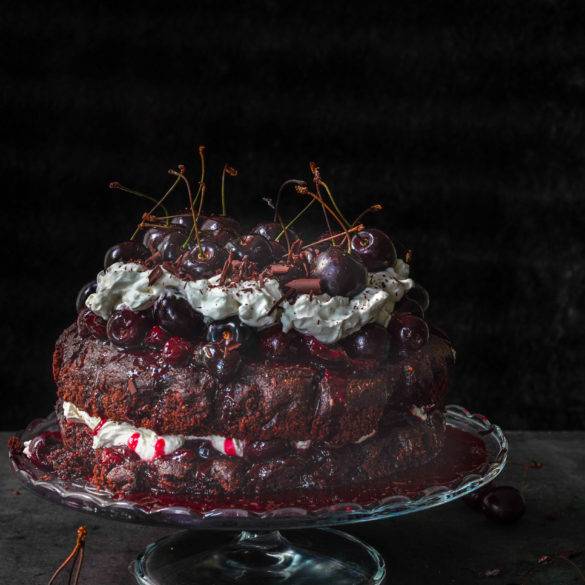 Ingredients
Chocolate Base

150g millet

150g ground almonds

150g quinoa

75g cacao powder

105g tapioca flour

45g oats

75g flaxseeds

225g unrefined cane sugar

1 ½ tsp baking soda

Pinch of salt

320g olive oil

75ml freshly brewed espresso coffee

270ml filtered water

2tbs cider vinegar

1tbs vanilla extract

Toppings

200g Cherry jam

200g Cherries, pitted

50ml filtered water

50g unrefined sugar

1tbs kuzu

Dark chocolate

Oat whipped cream
Instructions
Pre-heat oven to gas mark 180 Celsius degrees or if a convection oven to 160 Celsius degrees.
In a high-speed blender, whizz the millet, quinoa, oats, flaxseeds and sugar until fine. Transfer to a large mixing bowl. Toss in the tapioca flour, salt and baking soda. Mix well with a spatula.
Toss the almonds into the high-speed blender with the oil and water. Whizz till if forms a creamy consistency. Pour over the flours with the coffee, vanilla and cider vinegar. Use a spatula to mix well.
Line two 8- or 9-inch round baking tins with oil and parchment paper. Pour out the dough evenly between the tins. Cover with aluminium foil and bake in the oven for about 25 minutes. A skewer should cleanly come out to ensure it is set. Set aside to cool.
Once cool, remove the parchment paper and freeze the cakes for at least 3 to 4 hours.
Make the cherry sauce by destoning the cherries and placing with the jam, sugar into a saucepan. Dissolve the kuzu into the water and pour into the saucepan. Bring to boil. Reduce heat and simmer for about 10 minutes until the sauch thickens. Set to one side to cool.
A couple of hours before serving, remove the cake from the freezer, whip up the whipping cream. Place one cake on a serving dish. Use a palette knife to fold over half the cherry sauce. Lay over half of the cream. Smooth over with a palette knife. Gently lay the second cake on top. Pour over the remaining cherry sauce. Swoop over with a palette knife. Add, the remaining cream. Decorate with destoned cherries and lashings of chocolate shavings.
Serve chilled.