Sizzling bite-sized Vegan Popcorn Chicken; oyster mushrooms with oregano, paprika and garlic in a crisp rice, cassava and polenta coating.
Unleash your inhibitions. And, dazzle with finesse.
This dish will obliterate any hang-ups that vegan food can't be super scrummy.
Make this:
When you've got a night in with the lads watching the footie. And, need a pick me to tuck into as you lash out on the bevvies
When you've got twinkle toes away at the weekend and fancy a little self-indulgence. Just flick on the projector and enjoy home cinema experience with a little luxury to yourself
When you've got a kiddies birthday party to organise. And, these little tasty treats will have them pampering for more
Vegan Popcorn Chicken was inspired when out with a friend at a greasy fast-food place. Nothing had taken my fancy. And, I simply wanted a lush savoury dish that would be quick to make and taste the bees knees.
This savoury dish is vegan and gluten-free, and American cuisine.
What equipment to use
For this dish, I suggest:
Stove
Air fryer
What to do next
Tag me on @ethiveganquantum on Instagram to show me what you've made and let me know you're happy for me to share.
My recipes are featured in vegan speciality publications: Nourished, Vegan Life, Plant Based and Vegan, Food and Living.
Order my first self-published book, "Essence: The Beginner's Guide to Veganism" part of the three-part Circle of Food series. My second book "Presence: The Ascending Vegan" – which explores how to maintain a vegan practice is out in 2027 – I have compiled all the chapters including recipes.
Going strong since 2013.
Love.
Edward x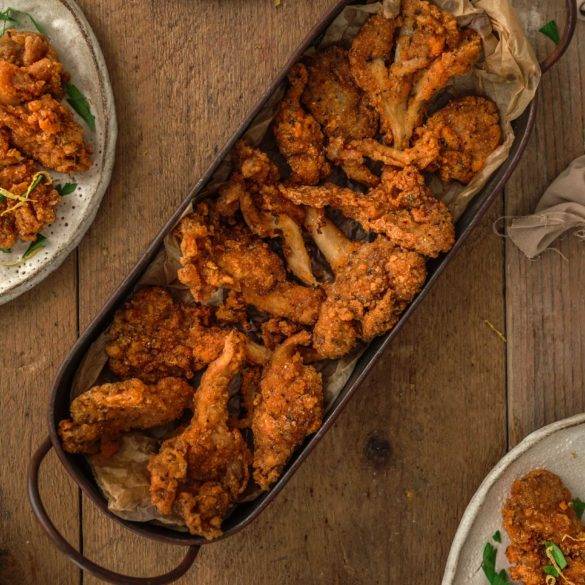 Ingredients
For the chicken

350g oyster mushrooms

For coating

200g Yoghurt

75g Glutenous white rice flour

75g Cassava flour

20g Tapioca flour

30g Polenta

1 tsp oregano

1 tsp smoked paprika

½ tsp onion powder

½ tsp garlic powder

Pinch of cayenne (optional)

½ tsp salt

½ tsp peppercorns, ground

Oil for frying
Instructions
Pour the yoghurt into a medium sized bowl and set to one side.
Make the coating by mixing together the flours and spices in a large bowl. Set to one side.
Line a large tray with parchment paper and place the mushrooms atop. Strip the mushrooms into bite-sized chunks.
Use your fingers to coat each of the mushrooms in flour and return to the tray.
Using a small dessert figure dunk each mushroom in the yoghurt and then the flour. Return to the tray. Repeat until completed and coat a second time too.
Warm oil in a wok to deep fry the popcorn chicken. Once to a sufficiently high degree using a spider spoon quickly dunk the popcorn chicken for about 30 seconds removing and returning to a second tray lined with parchment paper and kitchen paper, to remove excess oil. Repeat until all the popcorn chicken has been lightly fried.
When ready to serve, air fry the popcorn at 180 Celsius degrees for 4 minutes. Serve warm.