Silken velvety smooth creamy butterscotch like Dulce De Leche with condensed coconut milk with sweetened caramel panela.
Glide over crests of luxuriance. And, succumb to pure indulgence.
This dish will overthrow any belief that vegan food can't be this super easy to make.
Make this:
When you're in need of some caramelised dessert you can swirl your spoon into. And, wrap your tongue around
When you're looking for a classic condensed milk caramel flavoured spread to lather on your toast
When you fancy a lush sauce to scoop over your ice cream. You'll be craving for indulgence
Dulce De Leche was inspired when making Alfajores for a Board Game event. This had been my contribution – this caramelised sandwiched between shortbread.
This dessert is vegan and gluten-free and Spanish cuisine.
What equipment to use 
For this recipe, I suggest:
Stove
What to do next
Tag me on @ethiveganquantum on Instagram to show me what you've made and let me know you're happy for me to share.
My recipes are featured in vegan speciality publications: Nourished, Vegan Life, Plant Based and Vegan, Food and Living.
Order my first self-published book, "Essence: The Beginner's Guide to Veganism" part of the three-part Circle of Food series. My second book "Presence: The Ascending Vegan" – which explores how to maintain a vegan practice is out in 2027 – I have compiled all the chapters including recipes.
Going strong since 2013.
Love.
Edward x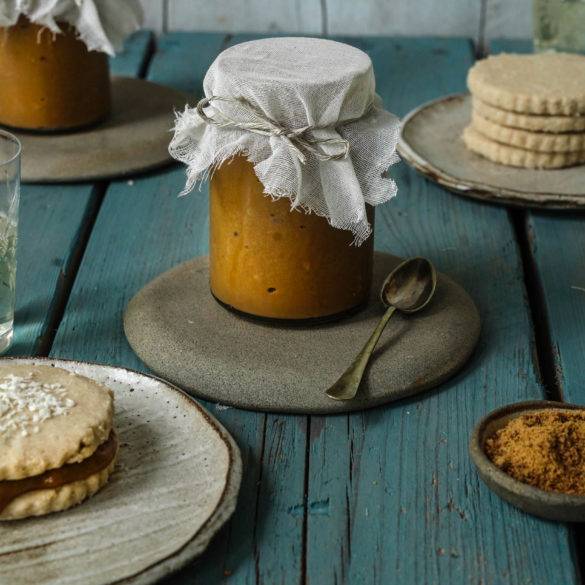 Ingredients
2 x 400ml coconut milk

200g panela/rapadura

½ tsp salt

1tbs kuzu
Instructions
Set aside 50ml of milk and dissolve the kuzu. Set to one side.
Pour the coconut milk with the sugar and salt into a medium sized saucepan. Bring to the boil. Dissolve the sugar. Reduce to a low heat and simmer uncovered. Stir occasionally. The Dulce should caramelise over 30 minutes.
Pour in the kuzu and remaining milk. Stir continuously and the Dulce should thicken.
Transfer to Dulce into a sterilised jar. Seal and use as needed.