Pucker your lips and dive into something sweet and lush.
Succulent tart tangy plums layered between crisp golden buckwheat oat crust topped with lemon zest; Plum Crumble.
What sort of crumbles do you like?
This dish will burst your belief that vegan food can't be simple to put together.
Make this:
When you're laden with plums freshly foraged from your local park or country walk
When you need a quick pick me up that'll get you gearing up to tie up loose ends at work
When you've got the kids, all flustered and an easy dish that'll have them enjoy making and eating it will give you some respite
Plum Crumble was inspired when I'd been foraging in some marshes. I had been on my bike cycling and found plums dropping from the trees.  Freshly harvested, making a humble crumble felt really invigorating.
Plums can be found in hedgerows, wood borders and scrub places. They vary in colour from the dark purple skin to green and yellow.  They are native to the United Kingdom having been introduced by Europe and the Middle East.
Plum Crumble is vegan and gluten-free.
Love.
Edward x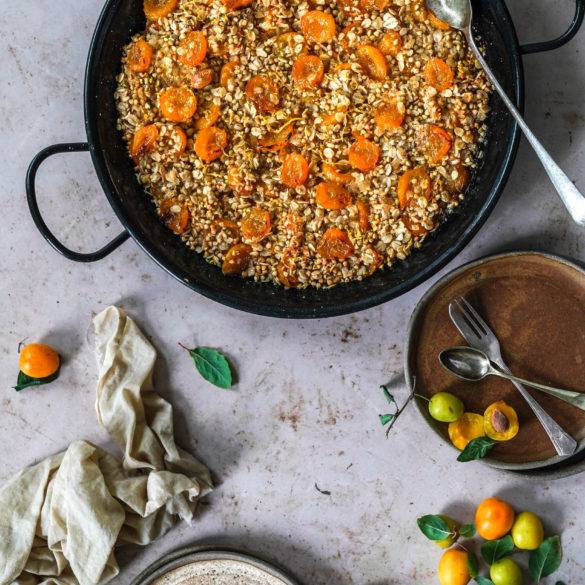 Ingredients
Base

500g plum

150g raw unrefined cane sugar

½ lemon, juice

Topping

100g buckwheat groats

100g oats

30g coconut oil

25g raw unrefined cane sugar

Garnishing

½ lemon, zest
Instructions
Preheat the oven to gas mark 180 degrees Celsius or if convection oven to 160 degrees Celsius.
Destone the plums and place in large bowl with the lemon juice and sugar. Place half of the plums on the base of a baking dish.
In a large mixing bowl, mix together the buckwheat, oats, and sugar. Add the coconut oil. Using your fingers gently mix the ingredients until the oil has melted in.
Place half of the gluten-free topping over the plum. Add the remaining plum and then add the rest of the topping. Bake in the oven for about 20 minutes.
Garnish with lemon zest before serving.
Serve hot with or without custard or leave to cool and tuck in with some ice-cream.