Succulent blackberries in a citrus almond cream with a touch of Star anise and rose water over a nutty amaranth pastry; Blackberry Tart.
Languish in temptation as your loins feel a rush of pure ecstasy.
What makes you reach out for blackberries when they are in season?
This dish will demolish any belief that vegan food can't be super nourishing.
Make this:
When blackberries are literally falling off their bushes as you forage your nearest hedgerow laden armed with a basket load
When you're hosting a summer dinner party and a simple put together lavish dessert that'll have your guests fanning at the seams
When you've just purchased a punnet of blackberries at the local farmers market and scratching your head as to what to rustle up
Blackberry Tart was inspired as London was baking in the sunny weather. There was much foraging to be had and hedgerows upon hedgerows had blackberry bushes blossoming. A nice nutty amaranth pastry with blackberry almond cream was the only solution.
Amaranth is a seed and the food of Aztecs. I love Amaranth for my pastry – something I discovered years ago as I was experimenting with gluten-free baking.  The pastry is my own recipe which I like because it has a nutty texture.
Blackberry Tart is vegan, paleo and gluten-free.
What equipment to use 
For this recipe, I suggest:
High speed blender
Oven
What to do next
Tag me on @ethiveganquantum on Instagram to show me what you've made and let me know you're happy for me to share.
My recipes are featured in vegan speciality publications: Nourished, Vegan Life, Plant Based and Vegan, Food and Living.
Order my first self-published book, "Essence: The Beginner's Guide to Veganism" part of the three-part Circle of Food series. My second book "Presence: The Ascending Vegan" – which explores how to maintain a vegan practice is out in 2027 – I have compiled all the chapters including recipes.
Going strong since 2013.
Love.
Edward x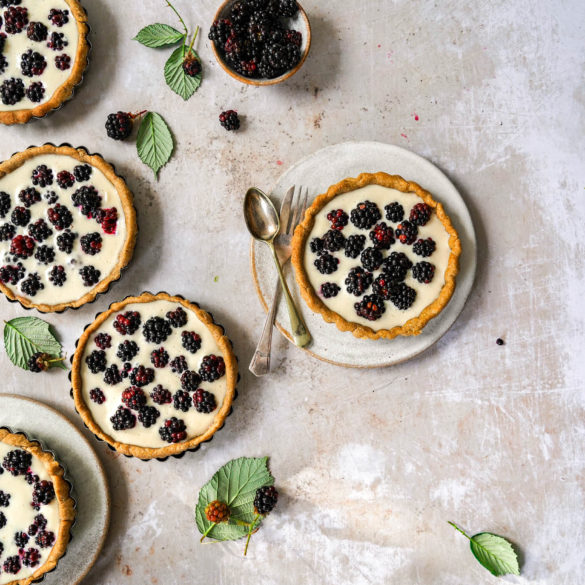 Ingredients
Filling

250g blackberries

100g almonds, blanched

½ lemon juice

1 Star anise

250ml filtered water

1tsp rose water

1tsp vanilla extract

50g unrefined cane sugar

½ tsp agar agar

Flan tray – 6 4-inch circumference

Pastry

Dry ingredients

100g amaranth seeds

50g oats

25g flaxseeds

25g unrefined cane sugar

Pinch of salt

75g tapioca flour

Wet ingredients

30g prune puree

8tbs filtered water

40g coconut oil
Instructions
Pre-heat the oven to gas mark 180 degrees Celsius or if you have a fan oven 160 degrees Celsius.
Make the pastry by placing the dry ingredients (not tapioca flour) into a high-speed blender and blending till fine. Transfer to a large mixing bowl add in the tapioca flour.
Toss in the prune puree and mix with hands. Next add the water. Continue using the hands. Then add the oil and knead into a bowl. Cover and leave the dough to rest in the fridge for about 30 minutes.
Line 6 4-inch mini-tart shells with oil to ensure that the dough doesn't stick. Weigh the dough and divide into 6. Place each dough piece between two baking sheets and roll into circle. Transfer to the tart shells.
Prick the base with a fork all over. Bake the base in the oven for 15 minutes. Remove from the oven. Set to one side.
For the cream topping, blanche the almonds in boiling water to remove the skins. Transfer blanched almonds to a high-speed processor.
Pour in the water, lemon juice, rose water and vanilla extract and add in the sugar, Star anise and agar agar. Whizz until well combined.
Transfer to medium saucepan and lightly heat and gently stir until it starts to thicken into a cream.
Gently remove the flan base from their casings and pour in the cream.
Litter the blackberries. Chill in the fridge for at least a couple of hours.
Serve chilled.