Fleshy pillowy sweet glossy Lychees and Saffron Cream with a hint of rose water, cardamoms and earthy nutmeg.
Moisten your lips. And, shudder in expectation.
What's your favourite lychee accompaniment?
This dish will topple your belief that vegan food can't be simple to conjure up.
Make this:
When you fancy sinking into your sofa after a long day at work
When you've got a fancy dinner party and are low in time and a dish that'll have your guests savouring your every word
When you've got the kiddies rambling around the home and need them to have some fruit to keep them going
Lychees and Saffron Cream was inspired when a fellow photographer pushed me to create a photo with lychees in. Indeed, Lychees reminds me of Bali and sitting at one of the terraces in Ubud and watching the World go and eating wholesome fresh tropical fruits and earthy vegetables.
And, what you will find is that Lychees come into season between May to July. It is native to China. Lychees has a reddish-greenish husk, with white fleshy fruit with a silky sheen.
This dish is vegan and paleo.
What equipment to use
For this recipe, I suggest:
High speed blender
Stove
What to do next
Tag me on @ethiveganquantum on Instagram to show me what you've made and let me know you're happy for me to share.
My recipes are featured in vegan speciality publications: Nourished, Vegan Life, Plant Based and Vegan, Food and Living.
Order my first self-published book, "Essence: The Beginner's Guide to Veganism" part of the three-part Circle of Food series. My second book "Presence: The Ascending Vegan" – which explores how to maintain a vegan practice is out in 2027 – I have compiled all the chapters including recipes.
Going strong since 2013.
Love.
Edward x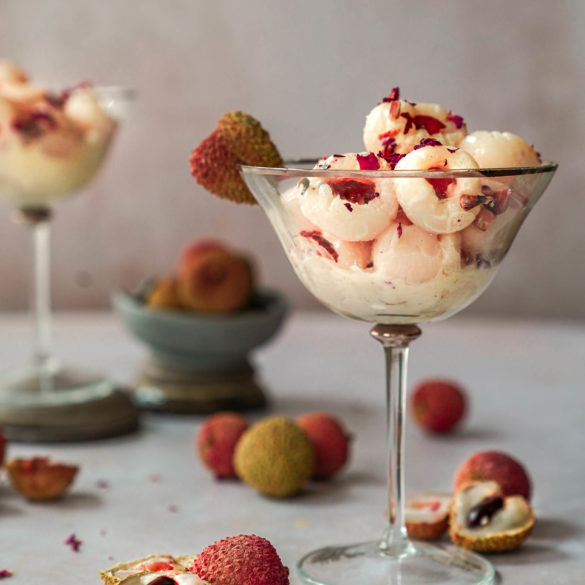 Ingredients
500g of fresh lychees or 2 x 200g drained canned lychees

150g almonds, blanched

400ml filtered water

60g unrefined cane sugar

7 to 10 threads of saffron

4 cardamon pods, seeds

½ lemon juice

1tsp rose water

1tsp vanilla extract

½ tsp agar agar

Garnish

¼ tsp nutmeg ground
Instructions
For the cream topping, blanche the almonds in boiling water to remove the skins. Transfer blanched almonds to a high-speed blender.
Pour in the water, lemon juice, rose water and vanilla extract and add in the sugar, saffron threads, cardamon seeds and agar agar. Whizz until well combined.
Transfer to medium saucepan and lightly heat and gently stir until it starts to thicken into a cream.
Pour in the cream into serving bowls and leave to chill in the fridge for 30 minutes.
Peel the lychees and destone or drain cans of lychees and chill in the fridge separately.
When ready to serve, litter the lychees on top of the cream. Sprinkle nutmeg on top and serve chilled.