Free flowing liquid Lemonade made with citrus lemon juice and zest in a sugar syrup downed with melting ice.
Tickle your fancy. And, pulse your quivering lips as you take another sip.
This dish will burst your belief that vegan drinks can't be simple to rustle up.
When do you feel time to have a dash of Lemonade?
Make this:
When it's a scorcher of a day and the air conditioning unit won't save you from the heat
When you've got a summer barbeque and need a little light drink that'll have you all relaxing into the afternoon
When you're parched after doing a long cycle ride on a warm summer's day
Lemonade was inspired when basking in the sun in Positano with an ex-beau.  Sipping fresh lemonade made with Sicilian lemons was the perfect prelude to dinner as we sat on our terrace overlooking the sea yonder.
Citric acid just enhances the flavour and acts as a preservative. I use it sparingly.  It is an optional choice.  So, don't feel as if you need to rush out the door to get it. Homemade fresh lemonade only needs a few simple ingredients, lemon juice, zest, sugar, water and ice to polish it off.
Lemonade is a vegan drink.
What equipment to use
For this recipe, I suggest:
Stove
What to do next
Tag me on @ethiveganquantum on Instagram to show me what you've made and let me know you're happy for me to share.
My recipes are featured in vegan speciality publications: Nourished, Vegan Life, Plant Based and Vegan, Food and Living.
Order my first self-published book, "Essence: The Beginner's Guide to Veganism" part of the three-part Circle of Food series. My second book "Presence: The Ascending Vegan" – which explores how to maintain a vegan practice is out in 2027 – I have compiled all the chapters including recipes.
Going strong since 2013.
Love.
Edward x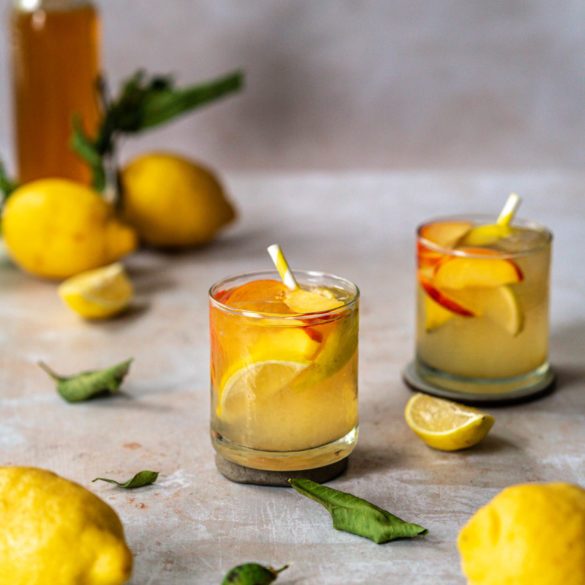 Ingredients
For lemon cordial

400ml filtered water

400g unrefined cane sugar

2 lemons, juice

1 lemon, zest

15g citric acid

For each serving

2 large lemons or 3 medium lemons

Ice
Instructions
In a saucepan over a medium heat dissolve the sugar in water. Set to one side to cool.
Squeeze in the juice of 2 lemons and grate zest of 1 lemon into the liquid cordial. As an option add in the citric acid. Cover and allow too steep to at least a couple of hours.
When ready to serve measure out about 75ml to 100ml of the cordial. Pour into a jug. Squeeze in juice of 3 medium or 2 large lemons. Pour over 300ml water and ice.  Give it stir.  Add more water as necessary for your preference.
Transfer the remaining cordial into a bottle and place in the fridge and use as necessary – ensuring the lid is open to the elements. If necessary, get a piece of parchment paper and elastic band and use as the lid.