Layers of sponge base, scattered with tangy blackcurrants topped with a crisp crumble give; Blackcurrant Buckle.
Smother yourself with zing to satiate your curvaceous appetite. And, dazzle.
This recipe will bust your bubble that vegan food can't be scrumptious.
Make this:
When the other half has nipped away for the weekend and you're dying to have a little luxury all on your todd
When you've gone bonkers with what to serve up for dessert at a dinner party, you've literally just invited all and sundry over and nothing but the wow factor will do
When you've got a new date lined up and you wanna make something pretty nifty
Blackcurrant Buckle was inspired when dreamily listening to folk singing, sitting in one of the cozy restaurants in Greenwich Village in New York.
A scrumptious gluten-free moist version of this Blackcurrant Buckle, a traditional American cake similar to a streusel. It has a complexity in textures and complementary flavours.
So, what exactly are blackcurrants, if you're unfamiliar with them. Well, they're ebony pearl-sized blackcurrants that are popular in UK, ripening late June and are available for a short season until August, sometime.  They're relatively easy to freeze, though as always best to use fresh and as available.  You can normally find blackcurrants in local farmers markets – although, there's nothing like handpicking your own and then rustling up a dish with them.
In terms of this Blackcurrant Buckle I use my gluten-free flour mix rather than shop brought, which gives it a be-spoke element. Millet is the main flour; just gives this a lift and its bedazzling colour.
This dessert is vegan and gluten-free.
What equipment to use
For this recipe, I suggest:
High speed blender
Oven
What to do next
Tag me on @ethiveganquantum on Instagram to show me what you've made and let me know you're happy for me to share.
My recipes are featured in vegan speciality publications: Nourished, Vegan Life, Plant Based and Vegan, Food and Living.
Order my first self-published book, "Essence: The Beginner's Guide to Veganism" part of the three-part Circle of Food series. My second book "Presence: The Ascending Vegan" – which explores how to maintain a vegan practice is out in 2027 – I have compiled all the chapters including recipes.
Going strong since 2013.
Love.
Edward x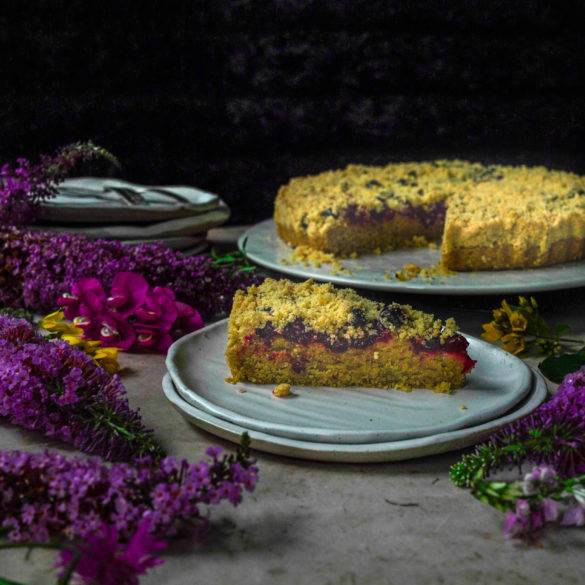 Ingredients
For cake base

300g millet

60g flaxseeds

60g oats

80g tapioca flour

100g raw unrefined cane sugar

3 tsp baking powder

Pinch of salt

170ml olive oil

160ml water

For fruit layer

200g Blackcurrants

For topping

100g millet

50g raw unrefined cane sugar

25g coconut oil
Instructions
Pre-heat the oven to 180 degrees Celsius or if a convection oven to 160 degrees Celsius.
Line a 9-inch cake tin with oil and line the base with parchment. Use a pair of scissors to cut a circle to cover the base.
Grind the millet finely in a high-speed blender and transfer to a mixing bowl.
Then grind the flaxseeds, oats, sugar and salt and mix into the millet. Add in the tapioca flour, baking powder.
Then pour the water and finally the oil. Mix with a spatula and transfer the batter to the base of the tin.
Scatter the blackcurrants over the batter.
To make the topping, place the millet and sugar in a high-speed blender and blend till fine. Transfer to a mixing bowl. Add the coconut oil and with your hands form a crumble. Scatter the crumble topping over the blackcurrants.
Cover the cake tin with aluminium foil and bake in the oven for 40 minutes. Remove the foil and bake for a further 15 minutes.
Test that the cake is baked through by using a skewer or knife. The cake is baked if it comes out clean.
Place the cake on a cooling surface and serve at room temperature. Keep in a sealed container as necessary and consume over the next two or three days.