Get your gob around this tasty morsel and fire up all those receptor cells to the big O.
Made from gamey Jackfruit, this lush Vegan Crispy Duck pools delux flavours of Five Spice, molasses and orange juice to give a kicking alt to this otherwise traditional mouth-watering dish.  Served on sheaths of pancakes layered with lashings of Spring onions, cucumbers and fragrant coriander leaves, drizzled with plum and hoisin sauces. You just can't go wrong.
Make this:
When you're wanting a top-notch Chinese night but as a fake away
When you're craving for al fresco starter with mates and you're wanting something different that'll get mood going
When it's date number #2 with a new lass you want to impress with your culinary skills
To boot and add sparkle to this dish, I have even made my own Five Spice combo found here. Check it out too.
Tag me on @ethivegan to show me what you've made and let me know you're happy for me to share.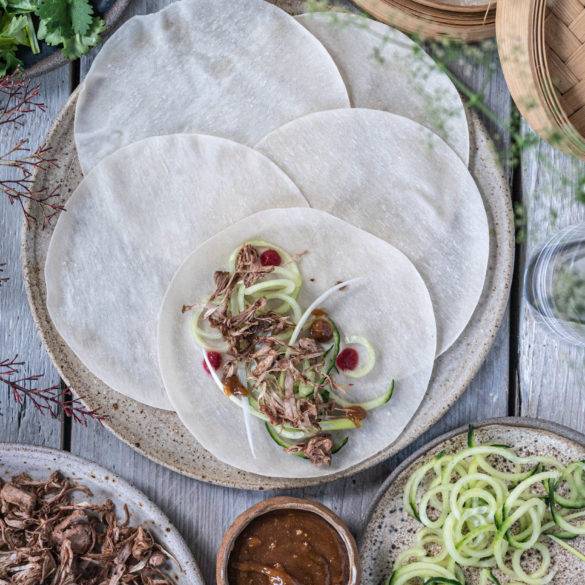 Ingredients
225g Jackfruit (from a can or jar)

¾ tsp Five Spice (find recipe above)

1tbs olive oil

1tbs molasses (grape or pomegranate)

1tbs orange juice

Pinch of salt

Pancakes

Spring Onions

Cucumbers

Sprigs of coriander

Plum sauce

Hoisin sauce
Instructions
Drain well the Jackfruit and leave to rest for a few minutes in a sieve.
In a bowl, mix together the remaining ingredients.
Place the Jackfruit into the bowl and use the back of the fork to separate out the Jackfruit.
Spatula the mixture onto the Teflon lining of a dehydration tray. Thinly spread.
Dehydrate in a dehydrator for 1 hour at 43 degrees Celsius. (If you don't have a dehydrator place in the oven at a low heat) - this will crisp the mock duck.
Remove and serve with pancakes, spring onions, cucumbers, coriander, plum sauce or even hoisin sauce.