Oozing gooey custard-like filling braided with burst blackcurrants littered over a pillowy amaranth pastry; Blackcurrant Tart.
Get your mouth pumped round something velvety and gummy. You won't know what hit you… until, you bite into… And, fall.
This dish will crush your belief that vegan food can't be super yummy.
Makes this:
When you're dying to get your tongue wrapped around something soft and sticky
When it's blistering outside, the aircons on and you're egging for a little tart release
When the al fresco dinner party's getting started and you want to nosh up something sweet that will get your guest's heart palpitating
Blackcurrant Tart was inspired by lashings of custard pie served in a seaside pub overlooking the harbour and watching the sea ripple in and out.
Luminescent ebony pearl-shaped blackcurrants have a relatively short season from early July for about a month and can be found in local farmers markets and specialty shops. Blackcurrants really are one of Britain's quintessential summer fruits. They are native to temperate northern Europe and Asia.  Rich in Vitamin C too, Blackcurrants have a sweet sharp taste and add colour to dishes – a firm favourite of mine.
Prune puree, I purchase from Urban Native Organics and Wholefoods in Stroud Green, London.  It's a small store, which I support.  You can find them here 
It's the Clearspring brand that I use of the Prune puree.  Normally, once open, I place in the freezer for use subsequently.  This keeps it fresh and available to use at any time.
Amaranth seeds, I get from a non-profit small charitable store in Stoke Newington, London –  I like to support small outlets, where I can.  You can find the shop here
Blackcurrant Tart is vegan, paleo and gluten-free.
What to do next
Tag me on @ethiveganquantum on Instagram to show me what you've made and let me know you're happy for me to share.
My recipes are featured in vegan speciality publications: Nourished, Vegan Life, Plant Based and Vegan, Food and Living.
Order my first self-published book, "Essence: The Beginner's Guide to Veganism" part of the three-part Circle of Food series. My second book "Presence: The Ascending Vegan" – which explores how to maintain a vegan practice is out in 2027 – I have compiled all the chapters including recipes.
Going strong since 2013.
Love.
Edward x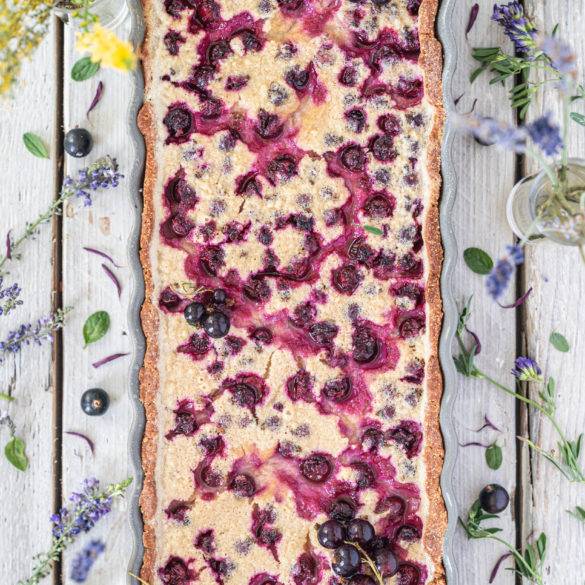 Ingredients
Filling

200g blackcurrants

750ml filtered water

150g oats

150g raw unrefined cane sugar

3 tsp agar agar

1 tsp vanilla extract

½ lime, juice

Few drops of lemon extract

Pinch of salt

Pinch of saffron

Pastry

Dry ingredients

100g amaranth seeds

50g oats

25g flaxseeds

25g raw unrefined cane sugar

Pinch of salt

75g tapioca flour

Wet ingredients

30g prune puree

8tbs filtered water

40g coconut oil
Instructions
Pre-heat the oven to gas mark 180 degrees Celsius or if you have a fan oven 160 degrees Celsius.
Make the pastry by placing the dry ingredients (not tapioca flour) into a high-speed blender and blending till fine. Transfer to a large mixing bowl add in the tapioca flour.
Toss in the prune puree and mix with hands. Next add the water. Continue using the hands. Then add the oil and knead into a bowl. Cover and leave the dough to rest in the fridge for about 30 minutes.
Line a tart dish (rectangular or circle) with oil to ensure that the dough doesn't stick.
Place a dough between two baking sheets and roll into a rectangle or circle – the rectangle or circle should be large enough to cover the base of the tart dish. Cut away any excess. Prick the base with a fork all over. Bake the base in the oven for 15 minutes. Remove from the oven. Set to one side.
In a blender, whizz the sugar until a fine consistency. Add in the water, oats, agar agar, lime, vanilla extract a pinch of saffron and salt and a few drops of lemon extract. Transfer to a sauce pan. Bring to the boil and simmer for three or four minutes, until it thickens to form a custard.
Pour the custard over the pastry. And, sprinkle the blackcurrant on top. Bake in the oven for around 20 minutes.
Remove from the oven and allow the tart to rest before attempting to serve. The filling will be a custardy complexion.
Serve with vegan cream or ice-cream.