Get your lips hot and firey for later to top off your liquid dunch… And, indulge.
Imagine seated outside the promenade of an alfresco Tapas Bar, people watching and sipping chilled rose wine. The sun's blazing overhead. You're soaking the sun's rays. You're feeling really good. The waiter swaggers over dropping a jumble of tapas plates. Patatas Bravas is amongst one of them. You rub your hands together, nab a cocktail stick and bring it to your mouth and you're salivating…
Well. You can recapture this moment by making this Patatas Bravas dish at home.
Crispy Patatas sautéed to a golden bloom loaded with a spicy Bravas sauce made from sweet and smoked paprikas, pureed yellow onions, vegetable broth and polished off with a pinch of kicking cayenne pepper.  This is what you're biting into.
This dish will smash your belief that vegan food can't be super delicious.
Makes this dish:
When you're burning to return to that Tapas Bar moment, above
When you've stuck on what to serve when the munchies come out at a poker night
When you're not wanting a heavy meal but a mishmash of dishes hitting different taste sensations
This authentic Patatas Bravas relies on both sweet and smoke paprika, adding contrast and the cayenne pepper adding heat.  Garlic and tomatoes are not part of the traditional recipe.
Patatas Bravas is a classic Spanish tapas appetizer, made with cubed potatoes sauteed in oil and served with a lush spicy sauce.  Whenever I make Patatas Bravas it just takes me back to good times spent chatting with friends in Tapas Bars in Spain with a nice cold Spanish red wine to boot.
I make my own stock using the potato water, simmered with sticks of carrot and celery – retaining the liquid and discarding the vegetables.  Don't worry if you don't have carrots or celery in your pantry, just use the potato water as your stock.
Patatas Bravas is vegan and gluten-free.
Love.
Edward x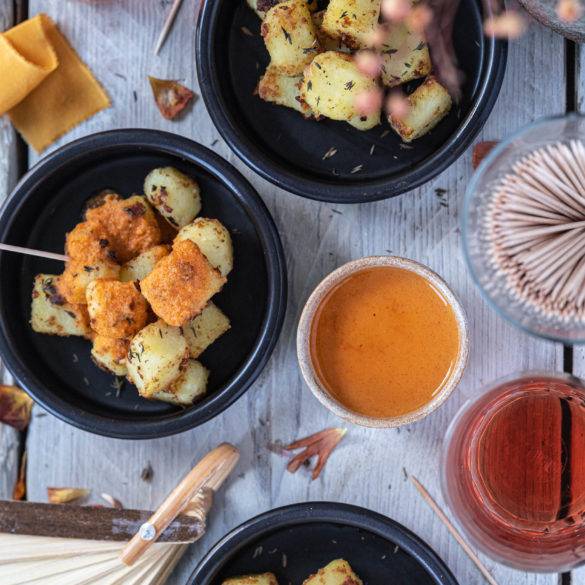 Ingredients
500g potatoes

Filtered water

1 carrot

1 stick of celery

1 onion

2 tbs olive oil

1 tsp tapioca flour

½ tsp smoked paprika

½ tsp sweet paprika

¼ tsp cayenne pepper

Pinch of salt
Instructions
Peel and dice potatoes. Place into a saucepan with filtered water. Bring to the boil and simmer for about 15 minutes until soft. Drain but retain the water. Place the potatoes in a sieve and set to one side.
Return the retained water to the saucepan and add in the carrot and celery. Simmer for a further 15 minutes. Discard the carrot and celery. Measure out 200ml of stock and set to one side.
In a frying pan, sauté the onion in oil. Add in the stock with the remaining ingredients. Bring to this Bravas sauce to the boil.
Puree the Bravas sauce in a blender. Set to one side.
Sauté the potatoes in olive oil and transfer to a serving dish.
Reheat the Bravas sauce, if you prefer having food piping hot.
Serve warm.