Blueberry Cinnamon Buckwheat Dessert feels indulgent yet nourishing. Buckwheat acts as a greater binding base for a dessert. This luscious dish is perfect for a lovely and rich dinner party or to have with someone special.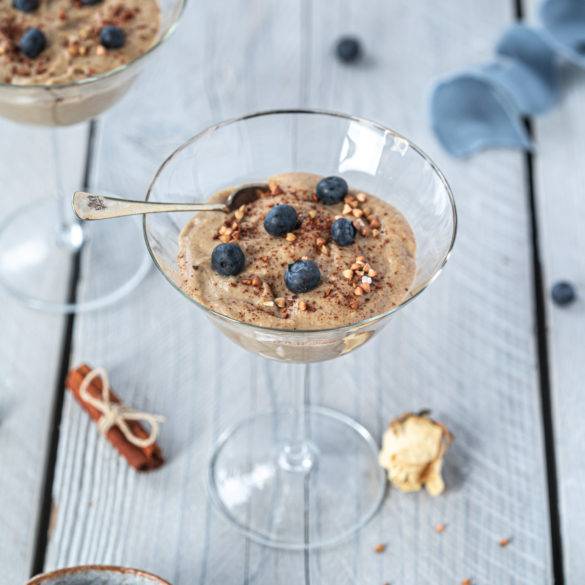 Ingredients
150g buckwheat groats
30g oats
100g dates (before pitting)
200ml filtered water
50g coconut flakes
1tsp tamari
1tsp vanilla essence
Pinch of salt
1 cinnamon stick
100g blueberries
Instructions
Soak the buckwheat in water and leave overnight. Leave aside.
In a food processor place buckwheat, oats, dates, water, coconut flakes, tamari, vanilla essence and salt. Whizz and place into separate bowls or large serving bowl.
Grind the cinnamon stick and mix into the pudding.
Garnish with blueberries.
Serve chilled.
Notes
By Edward Daniel, Vegan Chef and Former Chair of The Vegan Society. Contributor to Vegan Life Magazine, Plant Based Magazine, Vegan Food and Living Magazine and OK! Magazine. Speaker and cooking demonstrator at Vegan Life Life Festival London, Mind Body and Spirit Festival London, Veganes Sommerfest Berlin, and Bali Vegan Festival. Author of "Essence: The Beginner's Guide to Veganism".