This Chinese cabbage has become a recent addition to my repertoire. Its subtle white and dark leafy green vegetable too. The dressing here is intended to enhance the natural flavour of the pak choi.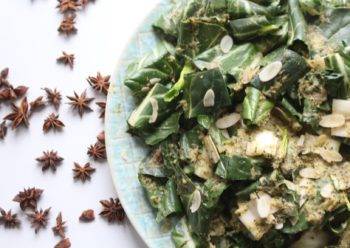 Ingredients
2 large pok choi
3tbs extra virgin olive oil
1 clove of garlic, minced
juice of 1 orange
1tbs coriander seeds, grounded
2 star anise. grounded
few springs of oregano, chopped finely
salt and pepper to taste
20g blanched almonds
Instructions
Cut of the base of the pak choi, leaving the stem and leaves and cut into 1-centimetre shreds. Place on a large serving plate. Leave to one side.
Make the dressing by coming olive oil, garlic, orange juice, coriander, star anise and oregano in a large bowl. Mix well and season to taste.
When ready to serve drizzle the dressing over the pak choi.
Garnish with blanched almonds.
Serve at room temperature.
Notes
By Edward Daniel, Vegan Chef and Former Chair of The Vegan Society. Contributor to Vegan Life Magazine, Plant Based Magazine, Vegan Food and Living Magazine and OK! Magazine. Speaker and cooking demonstrator at Vegan Life Life Festival London, Mind Body and Spirit Festival London, Veganes Sommerfest Berlin, and Bali Vegan Festival. Author of "Essence: The Beginner's Guide to Veganism".