Sprouting pulses give dishes a texture and consistency and the health benefits can be enormous – this dish takes about four to five days before the lentils start to sprout but it really is worth it. I made this because I had a flat mate who is a selective eater and dislikes any spices in his dishes. It is still possible to have something that tastes heavenly but without any spices.
What to do next
Tag me on @ethiveganquantum on Instagram to show me what you've made and let me know you're happy for me to share.
My recipes are featured in vegan speciality publications: Nourished, Vegan Life, Plant Based and Vegan, Food and Living.
Order my first self-published book, "Essence: The Beginner's Guide to Veganism" part of the three-part Circle of Food series. My second book "Presence: The Ascending Vegan" – which explores how to maintain a vegan practice is out in 2027 – I have compiled all the chapters including recipes.
Going strong since 2013.
Love.
Edward x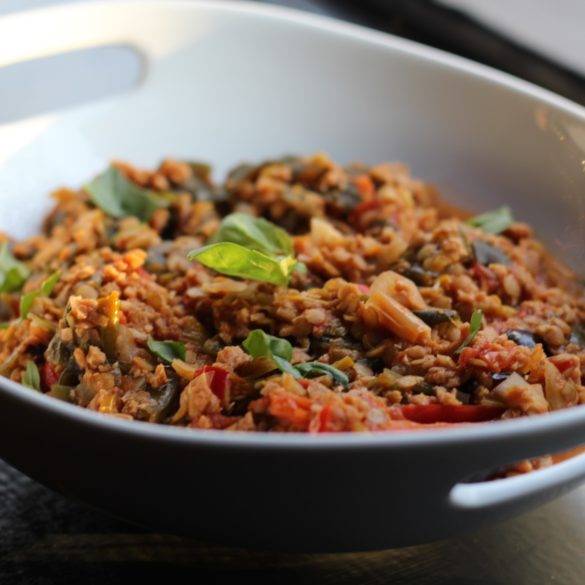 Ingredients
100g lentils
105g walnuts
125ml white wine
1 onion, diced
4tbs extra virgin olive oil
3 cloves garlic, sliced
750ml water
400g fresh tomatoes
2 bay leaves
1 pepper, sliced into strips
1/4 lemon, squeezed
40g olives
15g seaweed
small bunch of basil leaves
season to taste
Instructions
Soak the lentils in fresh water and set to one side for 24 hours. Wash, drain and add fresh water and leave for another 24 hours. Drain and leave in a colander for a further 24 hours. Wash and drain and leave to set-aside for 48 hours more. The lentils should now be turning a reddish brown colour
Place the seaweed in lukewarm water and set to one aside for 20 minutes. Once hydrogenated, cut into strips of around 1.5cm.
In a pan, add the olive oil with onions and cook over a medium heat until the onions turn translucent. Add the garlic and cook for a further couple of minutes.
Add the lentils, water, tomatoes, bay leaves and bring to the boil. Reduce to a low heat and cook for about 20 minutes.
Add the peppers cook for a further 10 minutes.
Switch off the heat and add the walnut, olives, seaweed and lemon juice. Season to taste.
Top tip – I use olives that have been soaked in olive oil, these really enhance the flavour and texture as does the seaweed, which similarly does not need to be cooked.
Remove the bay leaves and discard. Add the fresh basil, mix and serve.