Broccoli Salad with Pomegranate and Cob Nuts I crave whenever the cob nut season comes round. I love the subtle taste of the cob nuts, which are actually a type of hazelnut and which just complement the pomegranate and cucumber.  A great dish for Summer.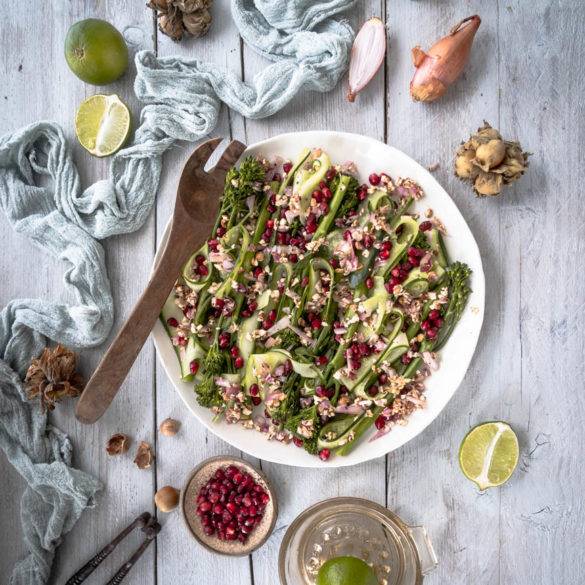 Ingredients
200g broccoli
1-inch ginger, grated finely
½ lime, juice and zest
1 cucumber, sliced
1 shallot, chopped
½ pomegranate, seeded
25g shelled cob nuts (or use hazelnuts as an alternative).
pinch of salt
pinch of pepper
Instructions
In a small mixing bowl put together the ginger, lime, salt and pepper. Set to one side.
Steam the broccoli for 5 minutes. Place in a serving dish.
Spiralise and add in the cucumber. Sprinkle over the shallot and pomegranate.
Blitz the nuts roughly in a chopper. Dry roast the nuts over a medium heat for three or four minutes. Sprinkle over the broccoli.
Drizzle over the ginger and lime mixture.
Serve.
Notes
By Edward Daniel, Vegan Chef and Former Chair of The Vegan Society. Contributor to Vegan Life Magazine, Plant Based Magazine, Vegan Food and Living Magazine and OK! Magazine. Speaker and cooking demonstrator at Vegan Life Life Festival London, Mind Body and Spirit Festival London, Veganes Sommerfest Berlin, and Bali Vegan Festival. Author of "Essence: The Beginner's Guide to Veganism".