Broccoli Salad with Pomegranate and Cob Nuts I crave whenever the cob nut season comes round. I love the subtle taste of the cob nuts, which are actually a type of hazelnut and which just complement the pomegranate and cucumber.  A great dish for Summer.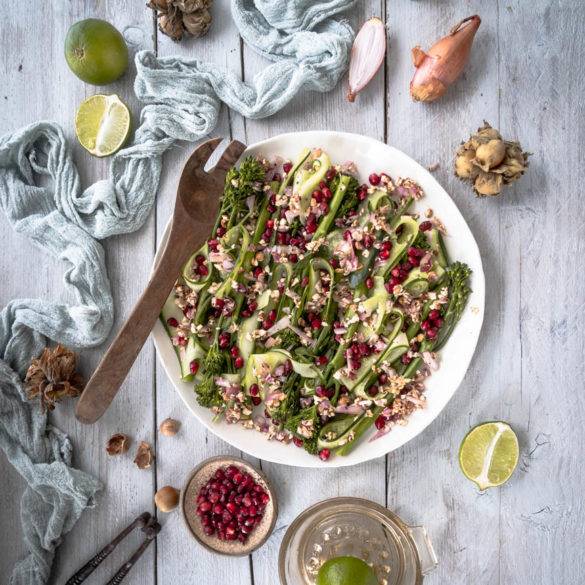 Ingredients
200g broccoli
1-inch ginger, grated finely
½ lime, juice and zest
1 cucumber, sliced
1 shallot, chopped
½ pomegranate, seeded
25g shelled cob nuts (or use hazelnuts as an alternative).
pinch of salt
pinch of pepper
Instructions
In a small mixing bowl put together the ginger, lime, salt and pepper. Set to one side.
Steam the broccoli for 5 minutes. Place in a serving dish.
Spiralise and add in the cucumber. Sprinkle over the shallot and pomegranate.
Blitz the nuts roughly in a chopper. Dry roast the nuts over a medium heat for three or four minutes. Sprinkle over the broccoli.
Drizzle over the ginger and lime mixture.
Serve.