Rich vine-ripened tomatoes with peppery-fruity olives immersed in beds of spongy polenta; Sundried Tomato Olive Polenta Blinis.
Grab something moist and delectable in your pecker as you existentialise (not to be confused with sensualise).  And, pucker.
This dish will burst your belief that vegan food can't be supper scrumptious.
Make this:
When you fancy a little tapas and relish as you have that afternoon slump sitting in front of the computer
When you're hosting a soiree for your (so-called cultured) friends and want a little Mediterranean sunshine but at home
When you've tucked the kiddies in bed and want a snack before you get down to a little stargazing outside in the garden with a bit of bubbly
Sundried Tomato Olive Polenta Blinis was inspired when having round out of flour to bake and seeds to dehydrate, and a gathering to feed hungry mouths, inspiration was drawn from sundried tomatoes, olives and polenta lying in the pantry.
Blinis are Russian-style yeasted pancakes. This dish plays on the blinis style using spongy polenta to mimic yeast-risen batter. Polenta is made from ground corn and is rich in antioxidants perfect for protecting cells from oxidative stress and damage.
Sundried Tomato Olive Polenta Blinis is vegan and gluten-free.
What to do next
Tag me on @ethiveganquantum on Instagram to show me what you've made and let me know you're happy for me to share.
My recipes are featured in vegan speciality publications: Nourished, Vegan Life, Plant Based and Vegan, Food and Living.
Order my first self-published book, "Essence: The Beginner's Guide to Veganism" part of the three-part Circle of Food series. My second book "Presence: The Ascending Vegan" – which explores how to maintain a vegan practice is out in 2027 – I have compiled all the chapters including recipes.
Going strong since 2013.
Love.
Edward x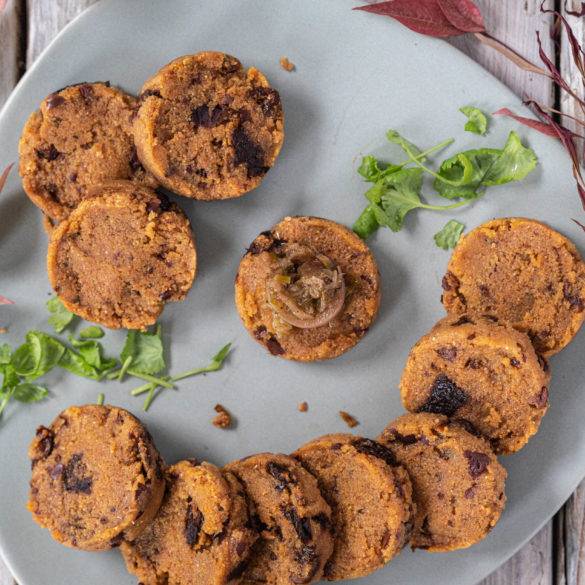 Ingredients
25g sundried tomatoes, chopped

375ml filtered water

125g polenta

50g olives, destoned and chopped

1 tbs lemon, juice

few chopped chives

1 tbs olive oil

For Garnishing

Coriander, chopped
Instructions
Soak the sundried tomatoes in filtered water for three to four hours. Set to one side.
Drain the water from the sundried tomatoes and place in a medium saucepan. Add the polenta and cook over a medium heat for about 10 minutes. Stirring continuously. The polenta should thicken.
Remove the pan from the heat and add the sundried tomatoes, olives and lemon juice.
Line a 12 mini baking tray with the olive oil. Use a couple of spoons to pack in the polenta. Smooth over with the back of a spoon. Place in the fridge for a couple of hours.
Serve, garnishing with coriander.