Grab something tart that'll get your senses all piqued. And, relax.
Spongy fleshy aubergine marinaded in pomegranate molasses with a touch of ginger, garlic and lemon zest; Piquant Raw Marinaded Aubergine.
This dish will burst your beliefs that vegan food can't be easy to rustle up.
Make this:
When you've got a busy day ahead and need to make a dish in advance that'll set you up for later when you get home
When it's a blistering sunny day and you need a cooling dish that'll be a perfect accompaniment to your salad
When you're looking for a light calorific dish that will keep your appetite high and your belt looser
Piquant Raw Marinaded Aubergine was inspired when there was a fellow raw vegan guest attending and there was limited time to swirl a dish together.
This recipe uses salt to remove some of the bitterness and moisture ordinarily found in aubergines.
Pear-shaped purple aubergines, part of the night-shade family may be light on calories but are packed with fibre and antioxidants.  They are great for weight loss, have a bitter astringent taste but yet spongy texture.
Originally native to India, aubergines have grown in cultivation and popularity and can now be found in the Mediterranean regions.
Piquant Raw Marinaded Aubergine is vegan, paleo and raw.
Love.
Edward x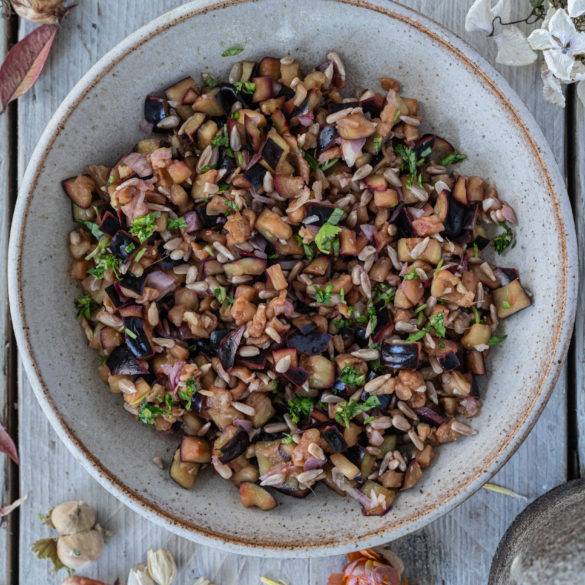 Ingredients
1 aubergine

1tbs rock salt

1 shallot, chopped

1-inch ginger, grated finely

2 cloves of garlic, chopped finely

½ lemon, zest and juice

1tbs pomegranate molasses

For garnishing

Coriander leaves
Instructions
Cut the aubergine into small diced cubes into a few millimetres squared. Place into a large mixing bowl with the salt. Use your hands to ensure that the salt is evenly distributed over the aubergine.
Remove the aubergine and place into a colander with the bottom of the coriander resting on a large bowl to permit any excess water to drain out. Leave for about three or four hours.
Use a dry cloth to remove any excess liquid from the aubergine.
In a bowl place add the remaining ingredients to make the marinade.
Place the aubergine in the marinade and leave for at least a couple of hours.
Transfer to a serving bowl and garnish with coriander leaves.