Bubble and Squeak makes a great leftover dish. I use Brussel's Sprout top head instead of discarding it mixed in with some purple potatoes I had lying around. Traditionally, Bubble and Squeak uses leftover vegetables.
What to do next
Tag me on @ethiveganquantum on Instagram to show me what you've made and let me know you're happy for me to share.
My recipes are featured in vegan speciality publications: Nourished, Vegan Life, Plant Based and Vegan, Food and Living.
Order my first self-published book, "Essence: The Beginner's Guide to Veganism" part of the three-part Circle of Food series. My second book "Presence: The Ascending Vegan" – which explores how to maintain a vegan practice is out in 2027 – I have compiled all the chapters including recipes.
Going strong since 2013.
Love.
Edward x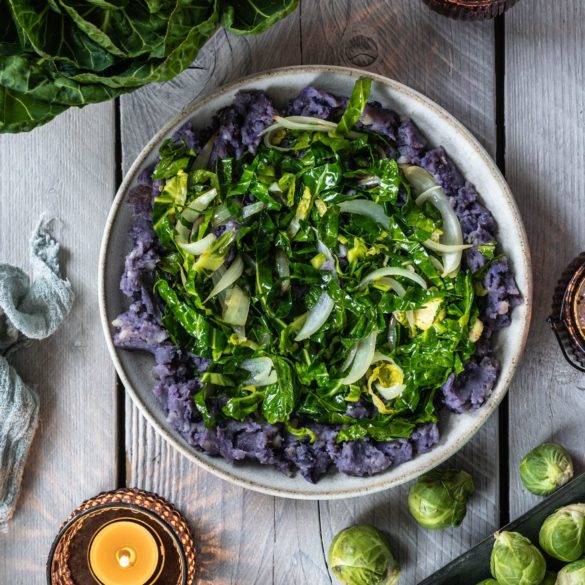 Ingredients
500g potatoes
20g almonds
80ml water
1 medium onion
4tbs extra virgin olive oil
1 Brussel's Sprout top head, shredded
Instructions
Whizz the almonds in water and set to one side.
Peel and boil the potatoes in filtered water until soft. Drain and mash with the almond milk in a large mixing bowl.
In a large pan, sauté the onions in oil for about three or four minutes over a medium heat until the onions turn translucent. Add the Brussels sprouts top and when the tops have softened add the potatoes to the Brussel's top mixture. Continuing frying for a further five minutes.
Season to taste.
Serve warm.