Carrot Cannellini Bean Burgers infused with mango, cumin, garlic, ginger, fresh coriander and sesame seeds.
Lavish yourself. And, bite into something scrummy.
This dish will obliterate your belief that vegan food can't be super yummy.
Make this:
When you've got games night with the lads and need a nourishing dish as you outsmart one another
When you've got a barbeque planned and need a burger to impress your mates
When you've a birthday party planned and something nutritious and nourishing for your hungry guests is much needed
Carrot Cannellini Bean Burgers was inspired when I was recipe testing when drafting the manuscript for my first book.
These Bean Burgers are vegan and gluten-free.
What equipment to use
For this recipe, I suggest:
Food processor
Stove
What to do next
Tag me on @ethiveganquantum on Instagram to show me what you've made and let me know you're happy for me to share.
My recipes are featured in vegan speciality publications: Nourished, Vegan Life, Plant Based and Vegan, Food and Living.
Order my first self-published book, "Essence: The Beginner's Guide to Veganism" part of the three-part Circle of Food series. My second book "Presence: The Ascending Vegan" – which explores how to maintain a vegan practice is out in 2027 – I have compiled all the chapters including recipes.
Going strong since 2013.
Love.
Edward x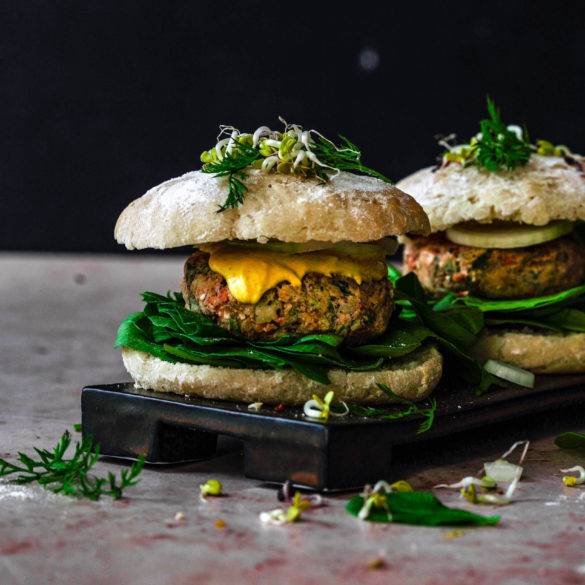 Ingredients
250g cannelloni beans

250g carrots

3 shallots

2tsb extra virgin olive oil

1tbs mango powder

2tbs coriander powder

2tbs cumin powder

1tsp salt

3 cloves of garlic

1 inch ginger

150g sesame seeds

Few sprigs of coriander

Oil for frying
Instructions
Soak the beans in filtered water overnight or at least 8 hours.
Pressure cook the beans in water for 25 minutes. Drain and set to one side.
Chop the shallots and sauté in oil until translucent.
Once the beans have cooled down, place into a food processor and roughly chop.
Grate the carrots and finely chop the coriander.
Place beans into a large mixing bowl. Add the carrot, coriander and remaining ingredients. Combine and knead the mixture.
Have a bowl to one side with lukewarm water to dip your hands into now and again.
Take a small handful make into a round circle with the palm of your hands. Keep repeating till you use up the mixture. Have a tray lined with parchment paper to the side to place each burger. Keep refrigerated until ready to eat. This mixture will keep for about a day.
To heat up gently sauté the bean burgers in oil until lightly browned on both sides.
Serve on its own or in a bap.