Rice mirin lime-flavoured aubergine boats coated with buckwheat groats drizzled with balsamic vinegar and garnished with lashings of parsley and rose petals; Baked Aubergine stuffed with Buckwheat.
Moist and succulent is exactly what your pecker needs… And, pamper.
This dish will burst your belief that vegan food can't be super scrumptious.
Make this:
When the neighbours got a bbq organised and you need a subtle dish that'll go with the salad
When it's baking hot outside and you fancy an intimate dinner with your beau/belle on the terrace with fairy lights glittering around
When you've got the girls over for poker night and want a dish that won't have you breaking into a sweat – mascara darling!
Baked Aubergine stuffed with Buckwheat was inspired by sunset gazing and al fresco dining on the cobbled streets of Mykonos.
Glossy purple-black bell-shaped aubergine belongs to the nightshade family, meaning they contain alkaloids, high in a nitrogen. Aubergine is high in antioxidants helping protect the body against harmful free radicals. It's also a good source of manganese, which supports bone density.
Baked Aubergine stuffed with Buckwheat is vegan and gluten-free.
What to do next
Tag me on @ethiveganquantum on Instagram to show me what you've made and let me know you're happy for me to share.
My recipes are featured in vegan speciality publications: Nourished, Vegan Life, Plant Based and Vegan, Food and Living.
Order my first self-published book, "Essence: The Beginner's Guide to Veganism" part of the three-part Circle of Food series. My second book "Presence: The Ascending Vegan" – which explores how to maintain a vegan practice is out in 2027 – I have compiled all the chapters including recipes.
Going strong since 2013.
Love.
Edward x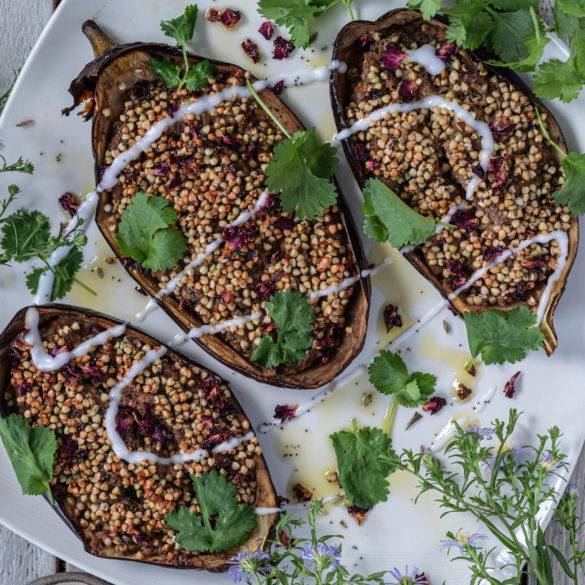 Ingredients
2 aubergines

5tbs olive oil

1tbs rice mirin

½ lime, juice

2tbs balsamic vinegar

80g buckwheat groats

1tbs fennel seeds

1tbs poppy seeds

Pinch of salt

Garnishing

Few sprigs of coriander

Handful of rose petals
Instructions
Pre-heat the oven to gas mark 180 degrees Celsius or if you have a fan oven 160 degrees Celsius.
Cut the aubergines in two. Scoop out the flesh. Leave a gap with the skin.  Brush the skin with 2 tbs olive oil and place the flesh on a baking tray lined with baking parchment.
Place the aubergine flesh into a blender. Add in 2tbs of olive oil, the rice mirin, lime juice and salt. Blend well.
Remove and mix in half the buckwheat, the fennel and poppy seeds.
Place the aubergine flesh mixture into the aubergine boats.
Coat the other half of the buckwheat with 1tbs of olive oil and scatter over the aubergine flesh.
Drizzle on the balsamic vinegar.
Bake aubergines in the oven for 30 mins.
Garnish the aubergines with coriander and rose petals.