Crispy raw Butternut Squash Latkes with smoked paprika, parsley, garlic and bound in sesame flaxseed crust.
Dive into oblivion and yearn for more.
This will obliterate any belief that vegan food can't be super nutritious.
Make this:
When you've got a potluck raw vegan event and need a mouth-watering dish that will please
When you've a party and a delightful finger food dish will satiate your guests' appetite
When you've had an exhausting week at work and need a chill pill dish that will get your creativity back on track
Butternut Squash Latkes was inspired when I had raw vegan friends over for lunch and wanted to create a lush that looked dazzling but was jaw dropping as you bit into it.
These savoury Latkes are vegan and paleo, Jewish cuisine.
What equipment to use
For this recipe, I suggest:
Dehydrator
What to do next
Tag me on @ethiveganquantum on Instagram to show me what you've made and let me know you're happy for me to share.
My recipes are featured in vegan speciality publications: Nourished, Vegan Life, Plant Based and Vegan, Food and Living.
Order my first self-published book, "Essence: The Beginner's Guide to Veganism" part of the three-part Circle of Food series. My second book "Presence: The Ascending Vegan" – which explores how to maintain a vegan practice is out in 2027 – I have compiled all the chapters including recipes.
Going strong since 2013.
Love.
Edward x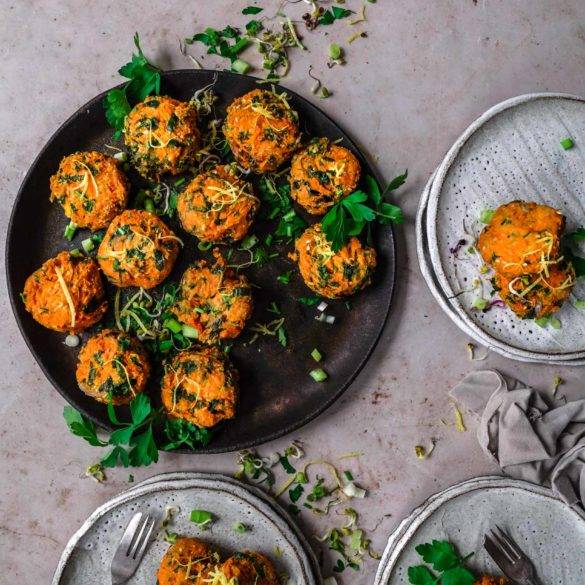 Ingredients
1kg butternut squash (use the base end)

100g sesame seeds

50g flaxseeds

1tsp smoked paprika

2tbs coconut oil

Few sprigs of parsley

1 shallot

2 garlic cloves, minced

Season to taste
Instructions
Cut, discard the skin of and grate the squash. Place into a large mixing bowl.
Grind the sesame and flaxseeds in a high-speed food processor and toss into the bowl with the remaining ingredients.
Use the palm of your hands to knead the ingredients. And then take a small portion and form into a small patty. Place onto a dehydrator tray with Teflon sheet on.
Dehydrate in the dehydrator set at 43 degrees Celsius for 8 hours turning occasionally.
Serve fresh and cool.