Roasted Squash Dulse Curry came about because I wanted to create a dish that had a rustic earthy feel to it. This dish makes a thick creamy sauce too, which I love. Serve with quinoa or even raw cauliflower rice. I had a close friend staying for the weekend so it was a perfect addition to our dinner.
What to do next
Tag me on @ethiveganquantum on Instagram to show me what you've made and let me know you're happy for me to share.
My recipes are featured in vegan speciality publications: Nourished, Vegan Life, Plant Based and Vegan, Food and Living.
Order my first self-published book, "Essence: The Beginner's Guide to Veganism" part of the three-part Circle of Food series. My second book "Presence: The Ascending Vegan" – which explores how to maintain a vegan practice is out in 2027 – I have compiled all the chapters including recipes.
Going strong since 2013.
Love.
Edward x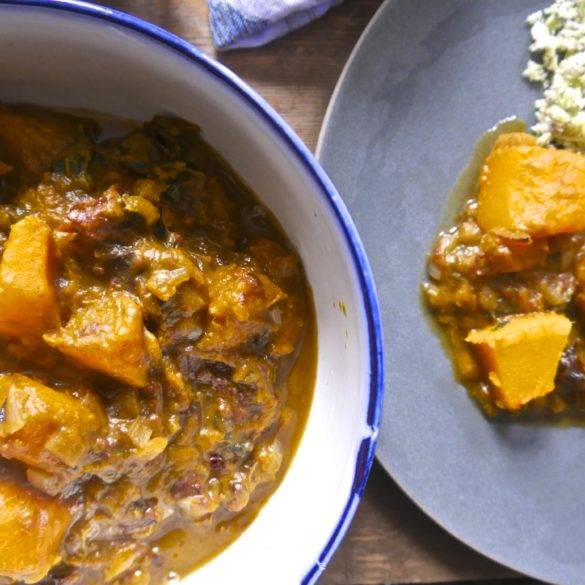 Ingredients
1kg squash (e.g. Crown Prince)
2tbs coconut oil
10g dulse, dried
600ml (old and opened) white wine
1 medium onion
2tbs olive oil
2tbs coriander powder, ground
4 juniper berries, crushed
2 cloves of India
pinch of salt
few sprigs of mint
¼ chipotle, chopped (optional)
Instructions
Preheat oven to 170 degrees Celsius.
Soak the dulse in white wine and set to one side.
Place the squash in a baking tray and baste with the olive oil. Bake in the oven for about 45 minutes.
Remove the squash from the oven. Set aside to cool.
Remove the skin of the squash. (Note that the skin is nutritious so you can eat separately). Deseed and cut into thick chunks. Set to one side.
Sauté the onion in olive oil. When translucent add the coriander powder and continuing cooking under a medium heat for a couple of minutes.
Drain the dulse and use the liquid to add to the onions. Set the dulse to one side.
Add, the juniper berries, cloves, salt and continue cooking for about 5 minutes under a medium heat. The sauce should start to thicken.
Add the squash and continue cooking for a further 5 minutes.
Switch off the heat. Toss in the dulse and if required, mix in the chipotle.
Garnish with the mint leaves.