Cauliflower rubbed in rose sweet paprika, kicking cayenne pepper, minty oregano, sun-kissed sundried tomatoes and nutty sesame seeds slowly dehydrated to intensify flavours; Raw Cauliflower Buffalo Wings.
Suckle something moist and chewy that'll get your loins in a tizz. And, get busy.
This dish will bust your myth that vegan food isn't delicious nor healthy because it's every bits so.  Instead of white flour and milk, sesame seeds and zucchini are used to coat the cauliflower. Imported spices are used to enhance flavour.
Make this:
When you've got the lads over for games night and you need a kicking dish that'll get you to just as enamoured as the games themselves
When your mates got a barbeque organised and you want to flex your muscles with your culinary skills
When you've shopped your yo-yo diet and need a little encouragement dish to get you back on track
Raw Cauliflower Buffalo Wings was inspired when a fellow vegan chef visited from the Far East and rustled a dinner at home, using simple ingredients.
Cauliflower has a sweet buttery and nutty taste to it.  When dehydrated it becomes chewy and crunchy, and yet retains its nutritional value. It is high in choline, helpful in brain development and should form part of a well-balanced diet.
Cauliflower grows in cool slightly moist climates and relatively easy to grow in the UK.
Raw Cauliflower Buffalo Wings is vegan, paleo, raw and gluten-free.
What equipment to use
For this recipe, I suggest:
High-speed blender
Dehydrator
What to do next
Tag me on @ethiveganquantum on Instagram to show me what you've made and let me know you're happy for me to share.
My recipes are featured in vegan speciality publications: Nourished, Vegan Life, Plant Based and Vegan, Food and Living.
Order my first self-published book, "Essence: The Beginner's Guide to Veganism" part of the three-part Circle of Food series. My second book "Presence: The Ascending Vegan" – which explores how to maintain a vegan practice is out in 2027 – I have compiled all the chapters including recipes.
Going strong since 2013.
Love.
Edward x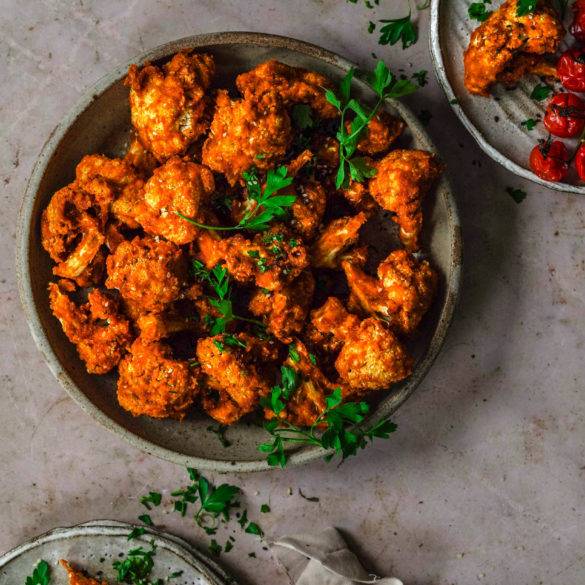 Ingredients
6 sundried tomatoes (dried or fresh)

1 whole cauliflower head

200g sesame seeds

1 zucchini

1 shallot

1 tomato

3 dates, deseeded

1 tbs tomato puree

1tsp sweet paprika

1tsp oregano, dried

2 garlic cloves

1 red chilli

½ lemon juice
Instructions
If using dried sundried tomatoes soak in filtered water and set to one side. If fresh skip this step.
Break the head of the cauliflower into small florets and set to one side.
Grind sesame seeds in high-speed blender. Add in the remaining ingredients (save the sundried tomatoes). Blend well.
Where using rehydrated sundried tomatoes, drain and discard the water and add the tomatoes to the blender.
Toss the blended mixture into a large mixing bowl and baste the marinade over the cauliflower florets.
On a dehydrator tray, place the cauliflower florets in a single layer with the marinade and dehydrate for 12 hours at 43 degrees Celsius before serving. Serve the leftover marinade separately.