Butternut Squash Mousse I made for my 50th birthday party recently. It had been a busy day and self-catering meant that I needed to create something quick and relatively simple to put together. Trust me it makes for a great dessert – as you know with all my dessert I put the least amount of sugar I can get away – add more to suit your palate though.
Blanched almonds, I purchase from a nifty Asian outlet in Hayes.  It has an online presence too which can be found here – I love it because it is reasonably priced and tends to be good quality stuff which I use.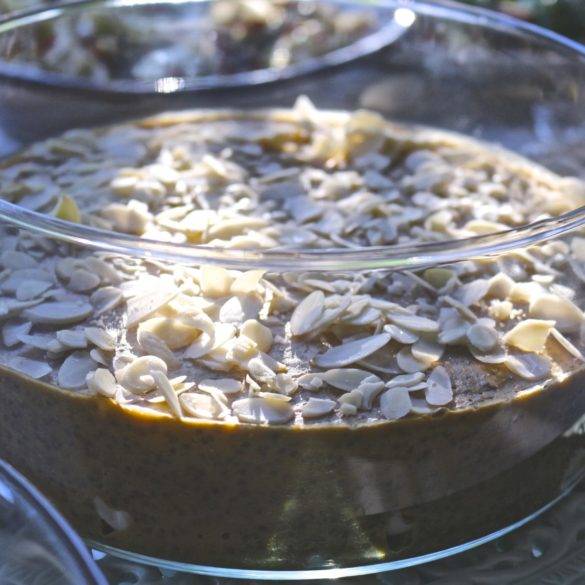 Ingredients
1kg butternut squash
1 pomegranate
500ml vegan cream
250g chia seeds
50g unrefined coconut sugar
50g almonds, blanched
Instructions
Preheat oven to gas mark 180 degrees Celsius.
Dry roast the butternut squash in the oven for about 30 minutes. Allow to cool.
De-skin the squash and remove seeds. Place in a food processor and whisk to a fine consistency.
De-seed the pomegranate.
Place the squash with the vegan cream, chia seeds and sugar into a large serving bowl. Leave in the fridge for 20minutes.
Decorate with blanched almonds and serve.