Rhubarb Trifle; grenadine poached rhubarb, madeira-soaked sponge, zesty orange, saffron ginger custard, cream topped with caramelised nuts.
Succumb to your whims. And, smatter into small pieces of pure indulgent ecstasy.
This dish will topple your belief that vegan food can't be super yummy.
Make this:
When you've got a decadent Christmas party and need that wow factor as your guests whoop in delight. The effort and tucking in will be well worth it. Trust me
When you've got new neighbours move in. And, as a little welcoming gift, give them a couple of small helping bowls for them to indulge in. But also, to feel greeted into your hoodie
When you've just celebrated finishing that job you really hated. And, utterly ecstatic that life can start again. Tomorrow is a new day. Tomorrow is a new adventure
Rhubarb Trifle started out as an experiment. I wanted the crumbly texture of a cake but I also wanted a creamy flavour. I like the fact that I have poached rhubarb in this dish which has a lush tasting delicacy to it. Not only is the sponge crunchy but soft too. The custard is light. And, the caramelised nuts are to die for.
I use Kuzu for the custard. Kuzu is a Japanese starch. I love it for my custard recipes. It is light and fluffy and just makes any custard frothy and yummy.
This dish is vegan and gluten-free, and British cuisine.
You can find
My Sponge Finger recipe here.
What equipment to use
For this recipe, I suggest:
Electric mixer
High speed blender
Stove
What to do next
Tag me on @ethiveganquantum on Instagram to show me what you've made and let me know you're happy for me to share.
My recipes are featured in vegan speciality publications: Nourished, Vegan Life, Plant Based and Vegan, Food and Living.
Order my first self-published book, "Essence: The Beginner's Guide to Veganism" part of the three-part Circle of Food series. My second book "Presence: The Ascending Vegan" – which explores how to maintain a vegan practice is out in 2027 – I have compiled all the chapters including recipes.
Going strong since 2013.
Love.
Edward x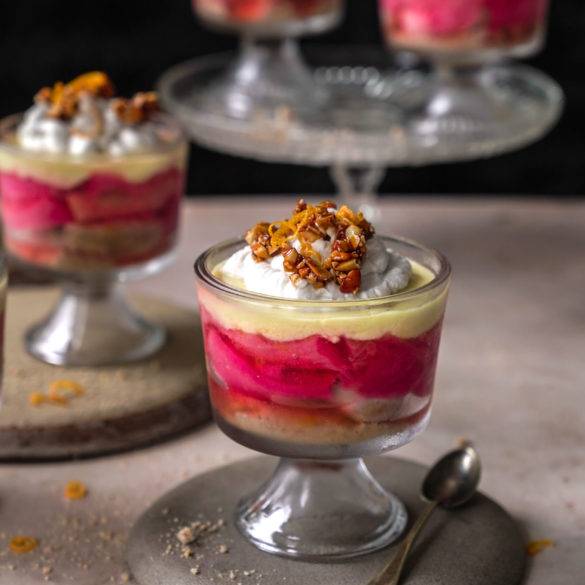 Ingredients
For poached rhubarb
800g rhubarb forced
150ml filtered water
1tsp grenadine
For custard
50g almonds, blanched
500ml filtered water
50g unrefined cane sugar
Few strands of saffron
1tbs kuzu (plus 1tbs filtered water to dissolve in)
1tsp vanilla extract
¼ inch ginger, grated (optional)
For sponges
12 trifle sponges (see my recipe at https://www.ethivegan.com/recipe-sponge-fingers-vegan-glutenfree/
120ml Madeira wine
For gelling liquid
150g unrefined cane sugar
½ orange, juice and zest
1tsp agar agar
For cream
200g vegan whipped cream
1tbs maple syrup
Garnishing – caramelised nuts
25g unrefined cane sugar
50g nuts, chopped
Instructions
Preheat oven to 180 degrees Celsius or if you have a convection oven to 160 degrees Celsius.
Poach the rhubarb by firstly, cutting into small rectangles and placing into a large baking tray in single file.
Mix the grenadine with 150ml filtered water and pour over the rhubarb.
Cover the baking tray in foil and bake in the oven for 20 minutes. Allow to cool.
Make the custard by making the milk by blending almonds, saffron, 500ml water and sugar in a high-speed blender.
Take the kuzu and dissolve into a tablespoon of water. Mix in some of the milk too. Set to one side.
Pour the remaining milk into a large saucepan. Use a metal hand whisk to whisk the milk. Gradually, pour the kuzu in.  Bring to the boil and simmer for about 5 minutes. Keep whisking. The milk should froth and become aerated. Add in the agar agar and continue simmering for 5 more minutes. Set to one side to cool.
Dunk the sponge fingers in madeira wine and transfer a large serving bowl. Layer with the rhubarb strips. Retain the liquid from the rhubarb and pour into a sauce pan.
Chill the serving bowl for about 20 minutes.
Make the gelling agent by squeezing the orange juice into the retained rhubarb liquid with the agar agar and zest. Bring to the boil and simmer for 5 minutes. Allow the liquid to cool.
Make the caramelised nuts but melting 25g sugar in a non-stick pan over a medium heat. As the sugar caramelises, toss in and coat the nuts. Continue caramelising, the toffee should turn dark golden and the nuts toast. Set to one set.
Pour the cooled gelling liquid over the sponge fingers and rhubarb and return to be chilled. Chill for a further 20 minutes.
Pour over the custard and return trifle to the refrigerator to chill.
Whip the cream and scoop onto the trifle.
When ready to serve, break the caramelised nuts into small pieces and decorate over the trifle.
Serve chilled.