Citrus roasted pears poached in caramelised sugar with cardamon, cinnamon and lemon and orange zest; Caramelised Pears.
Dive into something wholesome and intoxicating. And, quiver with delight.
This dish will overthrow your belief that vegan food can't be this super lush.
Make this:
When you fancy a little indulgence with next to no effort. And, be tantalised with the post-effects
When you've just been swimming with the sharks. And, need a little respite from the tit tat with pure absolution
When you've got kiddies creating chaos and a quick dish to satiate their boundless energy is much needed
Citrus roasted Caramelised Pears was inspired when babysitting my nephew and niece and coming up with a recipe concept to quench their insatiable appetites and frenetic minds.
I love the way the syrup for this dish crystallises and infuses with the citrus and spices. It makes a great round off to an evening's dinner.
This sweet dish is vegan and paleo.
What equipment to use
For this recipe, I suggest:
Stove
Oven
What to do next
Tag me on @ethiveganquantum on Instagram to show me what you've made and let me know you're happy for me to share.
My recipes are featured in vegan speciality publications: Nourished, Vegan Life,
Plant Based and Vegan, Food and Living.
Order my first self-published book, "Essence: The Beginner's Guide to Veganism" part of the three-part Circle of Food series. My second book "Presence: The Ascending Vegan" – which explores how to maintain a vegan practice is out in 2027 – I have compiled all the chapters including recipes.
Going strong since 2013.
Love.
Edward x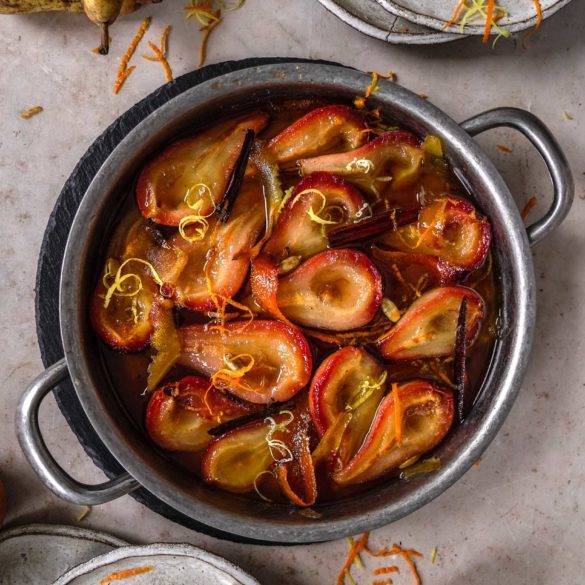 Ingredients
6 pears

150g unrefined sugar

75ml filtered water

2tbs olive oil

1 lemon

1 orange

4 cardamon pods

1 cinnamon stick
Instructions
Preheat the oven to 180 degrees Celsius or if you have a convention oven to 160 degrees Celsius.
Shave about 4 long strips of lemon and orange. Slice a knife through the cardamon pods but leave them intact.
In a sauce pan melt the sugar in water. Add in the lemon and orange strips, cardamon pods and cinnamon stick. Switch off the heat and add in the olive oil.
Peel the pears and cut in half. Core and place them core side down into a baking tray. Baste over the syrup.
Place in the oven for 1 hour, basting every 15 minutes or so.
Remove and place into serving bowls. Do not worry if some of the sugar has crystalised, it just adds to the flavour. Discard the citrus strips, cardamon and cinnamon.
Serve warm or cold if you prefer with ice cream.