Chestnut and Apple Stuffing is use when I am short of time and still want a stuffing accompaniment for my main dish.  I love the sweet taste of the chestnuts and apples in this dish which are complemented by the celery and herbs.
What to do next
Tag me on @ethiveganquantum on Instagram to show me what you've made and let me know you're happy for me to share.
My recipes are featured in vegan speciality publications: Nourished, Vegan Life, Plant Based and Vegan, Food and Living.
Order my first self-published book, "Essence: The Beginner's Guide to Veganism" part of the three-part Circle of Food series. My second book "Presence: The Ascending Vegan" – which explores how to maintain a vegan practice is out in 2027 – I have compiled all the chapters including recipes.
Going strong since 2013.
Love.
Edward x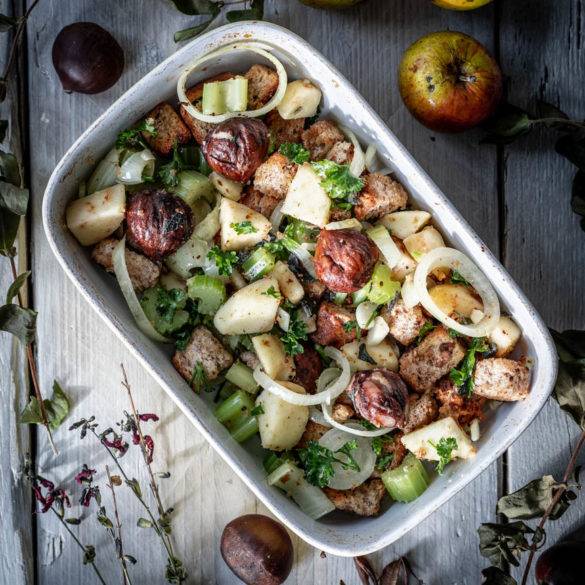 Ingredients
200g stale bread, diced
2 sticks of celery, chopped
4tbs olive oil
1 onion, sliced
150g apples, diced
100g chestnuts, cooked and chopped
Few sprigs of parsley, chopped
Few sprigs of sage, chopped
Pinch of salt
Instructions
Pre-heat the oven to gas mark 180 degrees Celsius or if you have a fan oven 160 degrees Celsius.
Dice the bread and place on a baking tray. Bake in the oven for 15 minutes. Set to one side.
In a large wok, sauté the celery in oil. Add in the onion and continuing sautéing. Toss in the apples and continue turning over a medium heat. Add in the chopped chestnuts. Then the bread, parsley, sage and salt.  Ensure that all the ingredients are well combined.
Place the stuffing onto a baking tray for 20 minutes.
Serve warm.