Cardamom Peach and Hazelnut Cake is an assault on the senses. Biting into the nutty texture of the hazelnut, and the succulent fruity peach and sensing the aroma of the cardamom – l love this dish because it feels effortless… It makes a great afternoon snack as I sit at my desk at work ready for a nice cup of tea. Hope you love this dish just as much as I do. I wanted to try something different to the raw sugar cane and so have adopted organic stevia as an alternative.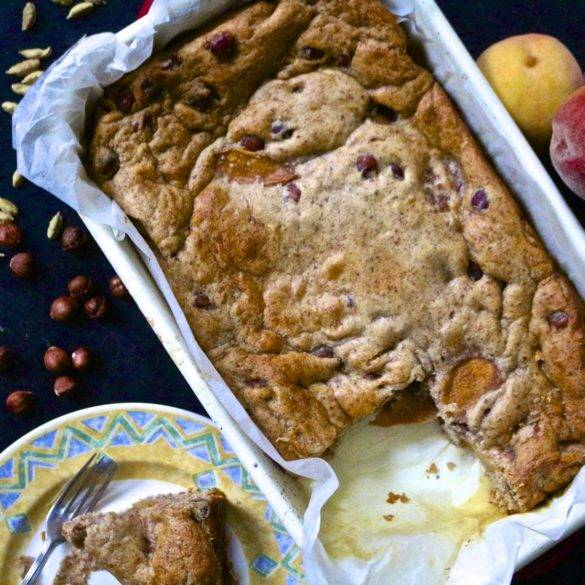 Ingredients
4tbs flaxseeds, ground
300ml vegan milk
16g fresh yeast (or 5g dry yeast)
100g organic stevia
pinch of salt
400g "00" doppio flour
150g coconut oil
8 cardamom pods
150g hazelnuts
4 peaches
Instructions
Line the base of an ovenproof dish or deep loose-bottomed cake tin with baking paper.
Place the flaxseed and milk in a food mixer and whizz. Add the yeast and salt.
Remove the seeds from the pods of the cardamom and grind finely. Add to the yeast mixture with the flour. Keep whisking.
Melt the oil in a pan if hardened and whisk into the mixture to form a smooth batter. Switch off the mixer.
Roughly chop the peach into segments. Fold in the peaches and the hazelnuts into the batter.
Pour the batter in the baking tray. Leave to rise for a couple of hours in a warm space.
Preheat the oven to 180 degrees.
Cover the cake with foil and bake in the oven for about 30 minutes until the cake is firm in the centre.
Serve warm or chilled.