Cavolo Nero and Mushroom Stir Fry with Marinaded Beetroot, Parsnip, Carrot and Zucchini Rice came about because I wanted to create a quick and easy stir fry that retained raw elements too. Here I lightly stir fry the cavolo nero with mushroom and then switch off the heat and allow the sauce to marinade with the parsnip, carrot and zucchini to create this lush light dish. This dish got me through a day of talks, going from one event to another and meeting up with a friend, Alan Martin for drinks.
What to do next
Tag me on @ethiveganquantum on Instagram to show me what you've made and let me know you're happy for me to share.
My recipes are featured in vegan speciality publications: Nourished, Vegan Life, Plant Based and Vegan, Food and Living.
Order my first self-published book, "Essence: The Beginner's Guide to Veganism" part of the three-part Circle of Food series. My second book "Presence: The Ascending Vegan" – which explores how to maintain a vegan practice is out in 2027 – I have compiled all the chapters including recipes.
Going strong since 2013.
Love.
Edward x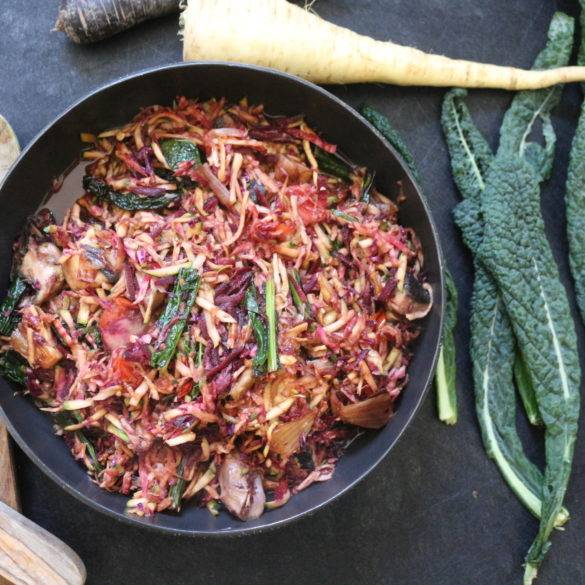 Ingredients
1 shallot, chopped
2 tbs coconut oil
4 medium sized cherry tomatoes
75g cavolo nero, sliced
1 large Portobello mushroom, cubed
1 parsnip, grated
1 carrot, grated
1 zucchini, grated
1 beetroot, grated
½ lemon, juice and zest
2 tbs cider vinegar
2 tbs tamari sauce
1 tbs amino liquid
pinch of salt
Instructions
Sauté the shallot in coconut oil in a large wok until the shallot turns translucent.
Add the tomatoes and cook over a medium heat for a couple of minutes.
Toss in the cavolo nero and mushroom and cook for a further three to four minutes. Switch off the heat.
Add in the remaining ingredients and combine well.
Transfer to a large serving dish and set to one side at room temperature for a couple of hours.
Serve.