Caramel-like intoxicating carob with chopped nutty almonds bound in a pillowy indulgent cookie biscuit; Carob and Almond Cookies.
Wrap you tongue around something gooey and soft.
This recipe will obliterate your belief that vegan food can't be this yummy.
Make this:
When a cooking activity that'll keep the kiddies enthralled and gushing as they gorge on these cookies afterwards
When you fancy a Sunday morning treat that'll go nicely with your cuppa
When you're out for a hike and some cookies as you take a pew before your next mount will do nicely
Carob and Almond Cookies was inspired when I'd had my bestie over for some grub and I'd run out of chocolate and as I was recipe developing he suggested that some almonds might go nicely in them.
For a slight off the scale tweak to this recipe, substitute 10ml of water for 10ml of carob molasses – I had guests salivating when I guest-hosted an event at Calme Garden, Lagonisi just south of Athens, Greece. For more information and to participate in a permacultural and cultural experience, much as I did last year, check out Calme Garden here. You can also find its music to listen too here.  For me it was a great experience and one which I enjoyed picking almonds and locally sourcing produce.
These Cookies are vegan and gluten-free.
What equipment to use 
For this recipe, I suggest:
High speed blender
Oven
What to do next
Tag me on @ethiveganquantum on Instagram to show me what you've made and let me know you're happy for me to share.
My recipes are featured in vegan speciality publications: Nourished, Vegan Life, Plant Based and Vegan, Food and Living.
Order my first self-published book, "Essence: The Beginner's Guide to Veganism" part of the three-part Circle of Food series. My second book "Presence: The Ascending Vegan" – which explores how to maintain a vegan practice is out in 2027 – I have compiled all the chapters including recipes.
Going strong since 2013.
Love.
Edward x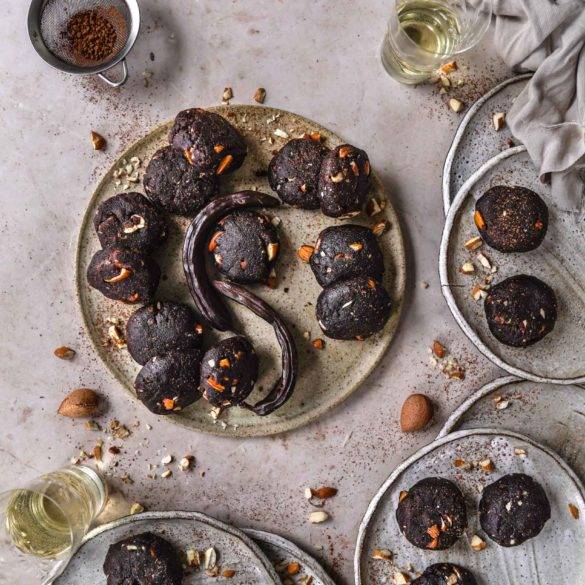 Ingredients
75g peanut butter

60g olive oil

50ml filtered water

50g buckwheat groats

50g blanched almonds, grounds

50g carob powder

75g unrefined cane sugar

Pinch of salt

50g almonds, unskinned
Instructions
Pre-heat oven to 180 degrees Celsius or if a convection oven, to 160 degrees Celsius.
Blanche 50g almonds in boiling water and remove the skin. Set to one side.
Place buckwheat, sugar and salt into a high-speed blender and whizz until fine. Add in the blanched almonds and continuing whizzing.  Transfer to a large mixing bowl.
Pour in the peanut butter, water and oil and mix well with a spatula.
Toss in 50g roughly chopped unskinned almonds.
Line a baking tray with parchment paper.
Take small amounts of dough and wrap into a ball with the palms of your hand and place on the baking tray. Repeat until the dough has been used up.
Bake in the oven for 5 minutes. Set aside to cool.
Serve cool with a cuppa.