Nutty Lotus Root Kofte with coriander, cumin, mango, sweet paprika, ginger and garam marsala in a spicy cardamon and sesame seed sauce.
Indulge in sizzling bite sized balls.  And, bite.
This dish will topple your belief that vegan food can't be this super nourishing and yummy.
Make this:
When the lads are over for an Asian nosh up and you fancy a bit of scrummy kofte
When you're up for a hearty treat that'll have you curled up on the sofa as you relax into the evening
When the pillow fight with your bestie results in intense laughter. And, you need a dish that'll satiate your hunger pangs
Lotus Root Kofte was inspired when visiting Dundee to see friends who used Lotus Root to make these little kofte beauties. This is a take on their version.
Lotus Root is a root vegetable found in Southern and Eastern Asia and is used in Chinese, Japanese and Indian cuisine. It has a water chestnut sweet nutty flavour to it.
This savoury dish is vegan and gluten-free, and Indian cuisine.
What equipment to use
For this recipe, I suggest:
Stove
What to do next
Tag me on @ethiveganquantum on Instagram to show me what you've made and let me know you're happy for me to share.
My recipes are featured in vegan speciality publications: Nourished, Vegan Life, Plant Based and Vegan, Food and Living.
Order my first self-published book, "Essence: The Beginner's Guide to Veganism" part of the three-part Circle of Food series. My second book "Presence: The Ascending Vegan" – which explores how to maintain a vegan practice is out in 2027 – I have compiled all the chapters including recipes.
Going strong since 2013.
Love.
Edward x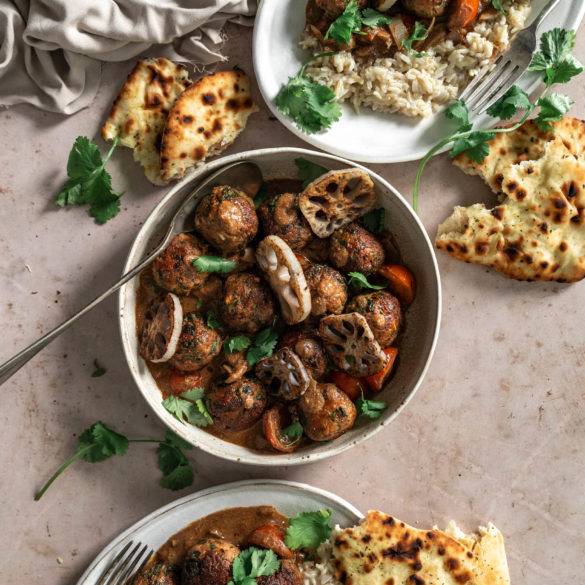 Ingredients
For kofte

1 large lotus root

1tbs ground coriander

1tsb cumin seeds

1tbs garam marsala

1tbs mango powder

1tsp sweet paprika powder

1tsp ground ginger

1/4tsp salt

Black pepper to taste

125g chickpea flour (plus, for dipping)

Few sprigs of coriander

Olive oil for frying

For the sauce

1 onion

2tbs olive oil

150g tomatoes

2tbs ground coriander

1tbs garam marsala

2tbs ground sesame seeds

3 cardamon pods, seeds

1/2tsp Kashmiri chili powder

Salt and pepper to season
Instructions
Peel the lotus and discard the skin. Grate the lotus and place into a cloth to wring out on the wetness. Transfer to a large mixing bowl.
Add in the spices ground coriander, cumin seeds, garam marsala, mango powder, sweet paprika powder, ground ginger, salt, chickpea flour. Season with black pepper. Toss in chopped coriander.
Have a bowl of water to the side of you to dip your hands into. Line a baking paper with parchment paper. Take the dough and curl into a ball about a couple of centimetres. Lightly dip the kofte into a bowl of chickpea powder, and transfer onto the parchment paper. Place in the fridge for a couple of hours.
Fry the kofte until lightly brown and set to one side.
Warm a frying pan and toss in the oil. Make the sauce by sautéing the onion in the oil. Toss in the remaining ingredients, tomatoes, ground coriander, garam marsala, ground sesame seeds, cardamon seeds, chili powder. Add in the kofte and cook over a low heat for about 30 minutes, covering the kofte with a sauce now and again.
Salt and pepper to season and serve warm.