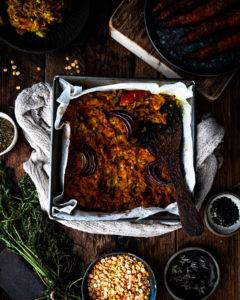 Carrot and Lentil Bake
Carrot and Lentil Bake is one of those dishes that is one of those lush hearty dishes. Baking the carrots with lentils with the seeds giving this dish texture, taste and colour.
Cuisine:
Vegan, Wholefoods
Ingredients
100g Chana Dhal
200g carrots
100g tomatoes
1tbs sesame seeds
1tbs oregano
1tbs marjoram
½ tsp turmeric powder
1 onion
½ lemon, juice
3tbs olive oil
Salt and pepper
Instructions
Pressure cook the lentils for 30 minutes in sufficient water. Drain well and set to one side.
Preheat the oven to gas mark 180 degrees Celsuis (or with a fan oven switch to 160 degrees Celsius).
Line a baking tray with oil and baking paper round the sides.
Grate the carrots and place in a large mixing bowl and add the remaining ingredients. Stir in the lentils. Season to taste.
Bake in the oven for 20 minutes.
Serve as a side dish or as a main.
EthiVegan by Edward Daniel
Thank you for taking the time to view my recipes, interviews and events pages.  I hope I inspire you to make these recipes and also inspire you to become very best versions of yourself.
You can follow me on Instagram here (@ethivegan) where I have quick one minute update videos and for interviews and cooking demonstrations you can subscribe to my Youtube channel here.  You can watch live cooking demonstrations by subscribing to my Facebook profile here (@ethivegan).
For more information about me – click here
See you soon.
Love.
Edward x
Edward Daniel | Vegan Chef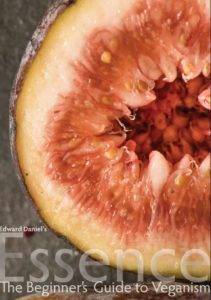 C