Cauliflower Adobo; tenderised cauliflower flesh in a soy, vinegar, garlic, chili, coconut sauce, topped with lime, coriander and scallions.
Teeter into waves of lushness. And, surge with your spout.
This dish will obliterate any belief that vegan food can't be super full bodied.
Make this:
When you've just dished the dirt on the latest scandalous shenanigans you have been up to with your bestie. And, you've lived to tell the anectodical tail between your legs
When you've just invited your new neighbour Joe, for a spot of dinner. And, a simple dish with a few choice ingredients and with heat to blow the top of his head off
When the tap is overflowing with the beer you've been brewing. You need some lush comfort food that'll soak up all that alcohol
Cauliflower Adobo was inspired when my brother's Filipino helper in Singapore described the Filippo cuisine and its strong dishes – a combination of East meets West.  Adobo is a soy and vinegar sauce-based stew that simply melts in the mouth.
For me, the cauliflower should be tenderised but still retain some firmness. That for me is when the cauliflower is best tasted and had. Also, I don't want to move the cauliflower when cooking as it evaporates the acid. Finally, I remove the cauliflower towards the end, I want the sweet and fiery tastes of sugar and chili to meld with the sauce. Traditionally, onion is not added but I love onions and feel it complements the dish.
This savoury dish is vegan, paleo and Filipino cuisine.
What equipment to use
For this recipe, I suggest:
Stove
What to do next
Tag me on @ethiveganquantum on Instagram to show me what you've made and let me know you're happy for me to share.
My recipes are featured in vegan speciality publications: Nourished, Vegan Life, Plant Based and Vegan, Food and Living.
Order my first self-published book, "Essence: The Beginner's Guide to Veganism" part of the three-part Circle of Food series. My second book "Presence: The Ascending Vegan" – which explores how to maintain a vegan practice is out in 2027 – I have compiled all the chapters including recipes.
Going strong since 2013.
Love.
Edward x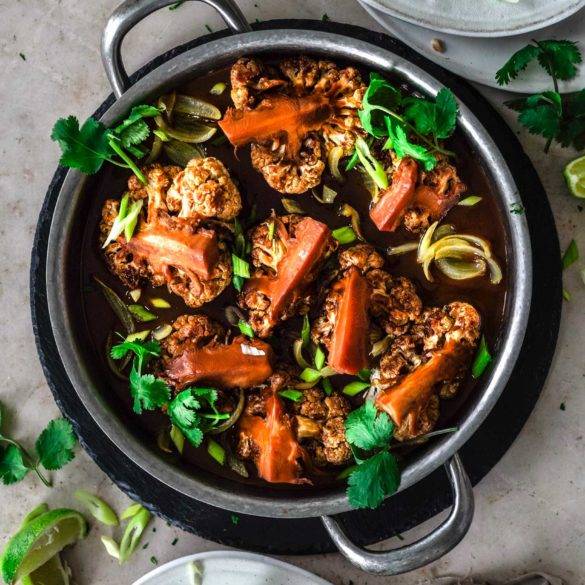 Ingredients
1 medium head of cauliflower or 2 small heads

2tbs extra virgin olive oil

1 onion

4 cloves garlic, crushed

150ml malt vinegar

150ml soy sauce

400ml coconut milk

1tbs unrefined cane sugar

1 chili (optional)

Season to taste

For Roux

30g vegan butter

1tbs potato starch

100ml filtered water

Garnishing

½ lime, juice

Few sprigs of coriander

Scallions
Instructions
Cut the cauliflower head into florets. Place in a deep baking dish. Pour over the soy and malt vinegar, with the crushed garlic. Set aside to marinade for at least a couple of hours. Turn over, every now and again so all sides are equally marinaded.
In a large saucepan, sauté the onion in oil. Transfer the cauliflower. Bring to the boil and simmer under a three-quartered-covered lid and over low to medium heat for about 20 to 30 minutes. Do not worry about moving the cauliflower too much. Baste every now and again.  Switch off the heat.
Remove the cauliflower and place on a (warming) tray.
In a separate pan, make the roux sauce by melting the butter over a medium heat. Add in the potato starch to form a roux sauce. Pour in the water. T The roux should thicken. Pour in 100ml water. Continuing stirring.
Transfer the roux to the marinaded soy vinegar mixture. Pour over the coconut milk. with deseeded chili and sugar.
Bring the adobo sauce to the boil. Simmer to form a thick sauce. Season to taste.
Return the cauliflower. Switch off the heat. Cover and allow the cauliflower to rest.
Pour in the squeezed lime.
Serve warm garnished with garlic and scallions.
Serve with rice or spelt.