Sponge fingers aka Lady Fingers/ Savoiardi; sweet dry vanilla sponge cakes biscuits, with walnuts and dusted with icing sugar.
Let temptation overwhelm you. And, arouse your inner sanctum.
This dish will obliterate your belief that vegan food can be so versatile.
Make this:
When you've got a special event to organise and need to get your trifle or tiramisu in order and your guests eating out of the palm of your hand – perfect for Rhubarb Trifle or as a base to a Chocolate Mousse
When you have teething toddlers screeching at you and need a biscuit that'll have them grasping for more
When you fancy nothing but a dunk with your hot drink. And, get stuck into your latest Vegan Mag
Sponge Fingers was inspired when being frustrated that shop brought vegan were made with white plain flour. Plus, demonstrating my own gluten-free vegan version of ladyfingers having experimented countless times and failed.
This dish is vegan and gluten-free.
You can find
My Rhubarb Trifle recipe here.
My Chocolate Mousse recipe here.
What equipment to use
 For this recipe, I suggest:
High-speed blender
Electric mixer
Oven
What to do next
Tag me on @ethiveganquantum on Instagram to show me what you've made and let me know you're happy for me to share.
My recipes are featured in vegan speciality publications: Nourished, Vegan Life, Plant Based and Vegan, Food and Living.
Order my first self-published book, "Essence: The Beginner's Guide to Veganism" part of the three-part Circle of Food series. My second book "Presence: The Ascending Vegan" – which explores how to maintain a vegan practice is out in 2027 – I have compiled all the chapters including recipes.
Going strong since 2013.
Love.
Edward x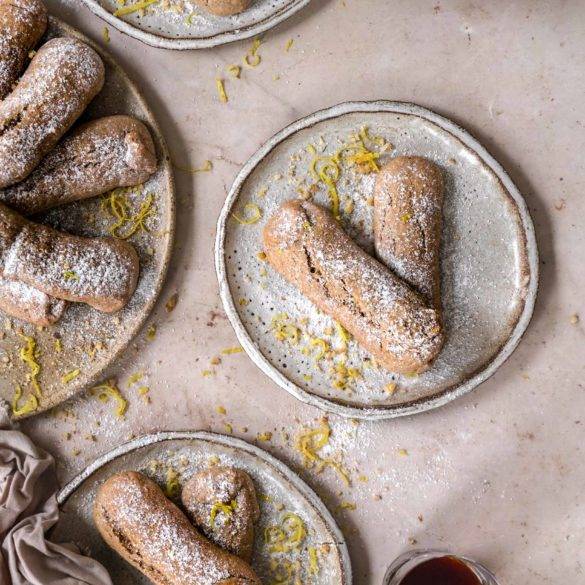 Ingredients
80ml aquafaba

1tbs lemon juice

50g millet

50g buckwheat

30g oats

100g unrefined cane sugar

50g white rice flour

60g potato starch

25g walnuts, ground

1tsp aluminium free baking powder

1/2tsp baking soda

1/2tsp xanthan gum

Pinch of salt

50ml coconut oil

1tsp vanilla extract

Icing sugar for dusting
Instructions
Preheat oven to 180 degrees Celsius, or if you have convection oven to 160 degrees Celsius.
Melt coconut oil and set to side. Ensure it remains liquid but at room temperature.
Line a baking tray with parchment paper.
Pour aquafaba with the lemon juice into an electric mixer.  Whisk the aquafaba until it forms into white peeks. Gradually, increase the speed.
Grind millet, buckwheat oats and sugar in a high-speed blender. Transfer to a large mixing bowl.
Add in the rice flour, potato starch, baking powder, baking soda, xanthan gum and salt. Mix well with a spatula.
Gradually and slowly mix in around a quarter of the flour mixture into the aquafaba. Use a spatula to help you.
Continue between intervals to gradually put in a little of the flour mixture at a time.
Pour in the coconut oil. Stir a spatula.
Toss in the walnuts and pour in the vanilla essence.
Leave the dough to rest for around 10 minutes at room temperature. Do not worry the dough has reduced in size – and don't be too precious.
Get a piping bag ready. Ensure you have a hole around 1.5cm hole. It's easier to use a tall glass to place piping bag in and gently scoop the dough into the bag.
Pipe dough into 10 cm finger strips, leaving space for the fingers to expand. Dust with icing sugar.
Bake in the oven for 15 minutes.
Remove from the oven and allow to cool. Place next batch in.
Serve once cool. Drizzle with some icing sugar.