Roasted Celeriac Steak infused with fiery Isot and Aleppo peppers, tangy sumac, smoked paprika and bathed in aromatic thyme.
Tantalise your tastebuds into oblivion as the heat sends shivers down your spine.
What other toppings you do like with celeriac?
This dish will fracture your belief that vegan food can't be this simple to rustle up.
Make this:
When you've got a barbeque on and the sun's blazing, out come the bevvies and the homemade DJ set
When you've had an awful day at work and need to rest your laurels with a simple dish that'll have you unwind in no time
When you've got the new beau/belle over for a third date and need something a little elegant but takes no time to make – more time on getting dressed, init
Celeriac Steak was inspired when I had a non-vegan friend visiting for Board Games.  Rummaging through the local farmer's market at Parliament Hill and the sweet nutty smell of celeriac came wafting through the air calling me. Time was not my side with an eventful day and cycling home I envisaged a nice serving of Celeriac Steak.
Celeriac is native to the Mediterranean and Nordic region. It has a subtle complex flavour, sweet, nutty, celery-like and soft once cooked. It often takes a back seat to parsnips but it's incredibly versatile and super lush.
Celeriac Steak is vegan and paleo.
What equipment to use
For this recipe, I suggest:
Oven
What to do next
Tag me on @ethiveganquantum on Instagram to show me what you've made and let me know you're happy for me to share.
My recipes are featured in vegan speciality publications: Nourished, Vegan Life, Plant Based and Vegan, Food and Living.
Order my first self-published book, "Essence: The Beginner's Guide to Veganism" part of the three-part Circle of Food series. My second book "Presence: The Ascending Vegan" – which explores how to maintain a vegan practice is out in 2027 – I have compiled all the chapters including recipes.
Going strong since 2013.
Love.
Edward x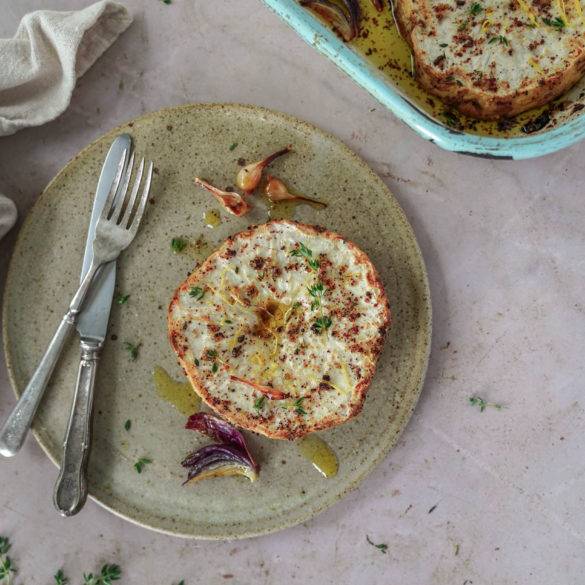 Ingredients
1 celeriac

Marinade

6tbs olive oil

1tbs cider vinegar

1 onion

4 cloves of garlic

1tbs sumac

1tsp Isot Isot / Urfa biber flake

1tsp Aleppo pepper flakes pul biber, also called Aleppo pepper

1tsp smoked paprika

Few sprigs of thyme

Pinch of salt
Instructions
In a mixing bowl mix together the marinade ingredients.
Slide the celeriac into thick steaks and lay on a baking tray. Drizzle the marinade over and set aside for about 30 minutes.
Pre-heat the oven to gas mark 180 degrees Celsius or if you have a fan oven 160 degrees Celsius.
Bake the celeriac steaks in the oven for about 25 minutes.
Serve warm.