Soft bulgur wheat kofte with sweet pepper paste and paprika, fiery Isot and Aleppo pepper flakes, tart sumac, and fresh tomatoes; Cig Kofte.
Grab a bit of heat to get you all hot and clappy chappy…
This dish will burst any bubbles that vegan food can't taste this lush.
Make this:
When you've got the lads over for a sensational Games night, with overflowing prosecco – move over ladies
When you've got a massive party with hors d'oeuvre that will tickle your guests' fancy
When you've had a vat full of lager and a dish that will quench your nature into putty
Cig Kofte was inspired when strutting down the Turkish quarter, Little Istanbul. Walking along the streets of Neukolin, there were an array of shisha cafes selling their own vegan Cig Kofte versions. Funky music and jet-setting crowds of people scattered the roads.
Moreover, this Kofte dish is an ancient Turkish appetizer. It is served with lettuce leaves and slices of lemon.  Traditionally, it is served at parties because they are full of flavour and immensely popular.
This savoury dish is vegan and Turkish cuisine.
What equipment to use
For this recipe, I suggest:
High speed blender
Steamer
What to do next
Tag me on @ethiveganquantum on Instagram to show me what you've made and let me know you're happy for me to share.
My recipes are featured in vegan speciality publications: Nourished, Vegan Life, Plant Based and Vegan, Food and Living.
Order my first self-published book, "Essence: The Beginner's Guide to Veganism" part of the three-part Circle of Food series. My second book "Presence: The Ascending Vegan" – which explores how to maintain a vegan practice is out in 2027 – I have compiled all the chapters including recipes.
Going strong since 2013.
Love.
Edward x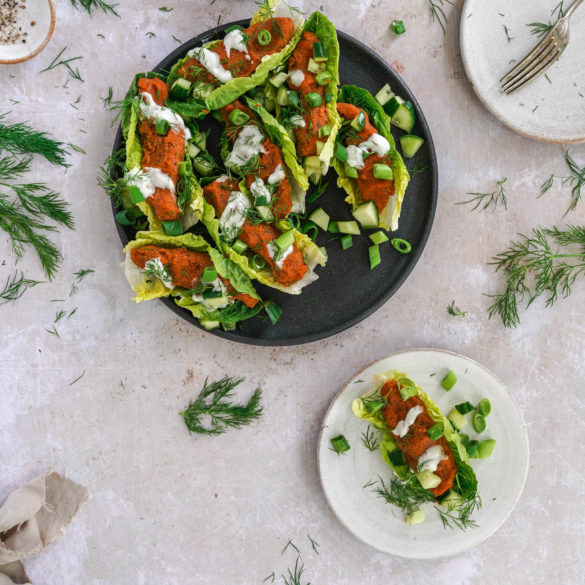 Ingredients
250g bulgur wheat, fine

375ml boiling water

2 tomatoes

1 onion

2 garlic cloves

2tbs olive oil

2tbs pomegranate molasses

1tbs tomato paste

1tbs red pepper paste ((tatlı biber salcası)

1tsp Isot / Urfa biber flake

1tsp sweet paprika

1ttsp Aleppo pepper flakes pul biber, also called Aleppo pepper

1tbs sumac

black pepper to taste

salt to taste

few sprigs of parsley, finely chopped

1 lettuce

1 lemon, juice
Instructions
Finely grind the bulgur wheat in a high-speed blender and place in a steamer with the water. Steam for about 5 minutes. Set to one side.
Blend the tomatoes, onion, garlic, spices in oil and molasses and transfer to a large mixing bowl. Add in the pastes.
Transfer the bulger to the bowl. Use your hands and knead into a dough. The dough should be soft and malleable.  This will take about 10 minutes. Alternatively, if time is short transfer to a food processor and mix well.
Add in the parsley.
Knead into the mixture.
Take a little bit of dough and use the palm of your hands to roll into a cigar kofte shape and set to one side on a large serving dish.
When ready to serve, serve wrapped in lettuce leaves and lemon juice. As an option, serve with cucumber, spring onions, mayo and balsamic to add an extra dimension, if you wish.