Floral elderflower blossoms fermented to give an effervescent Elderflower Champagne bursting with flavour, hint of lemon juice and zest.
Gravitate towards a taste sensation that'll have you quivering at your loins.
What fruit do you like in you Elderflower Champagne?
This dish will pulverise any belief that vegan drinks can't be this lush.
Make this:
When spring is in the air and the blossoms are leaping with vibrancy and you fancy a little champagne packed with flavour
When you've been on a forage walk and discovered elderberry trees rustling with fresh elderflower heads
When you've attended the local farmer's market laden with elderflowers ready to make your own homemade bevvy
Elderflower Champagne was inspired by the elder tree that naturally grows in my garden. The elder tree is a sacred and protective tree. It is the sacred symbol of marriage.
The elder is widespread in temperate climates in Europe and North America and found in woodland and hedgerows.
This Champagne is vegan, paleo and raw. And, British cuisine at its finest.
What equipment to use
For this recipe, I suggest:
Fermenting bucket
Airlock
12 x 500ml swing top glass bottles with stopper
What to do next
Tag me on @ethiveganquantum on Instagram to show me what you've made and let me know you're happy for me to share.
My recipes are featured in vegan speciality publications: Nourished, Vegan Life, Plant Based and Vegan, Food and Living.
Order my first self-published book, "Essence: The Beginner's Guide to Veganism" part of the three-part Circle of Food series. My second book "Presence: The Ascending Vegan" – which explores how to maintain a vegan practice is out in 2027 – I have compiled all the chapters including recipes.
Going strong since 2013.
Love.
Edward x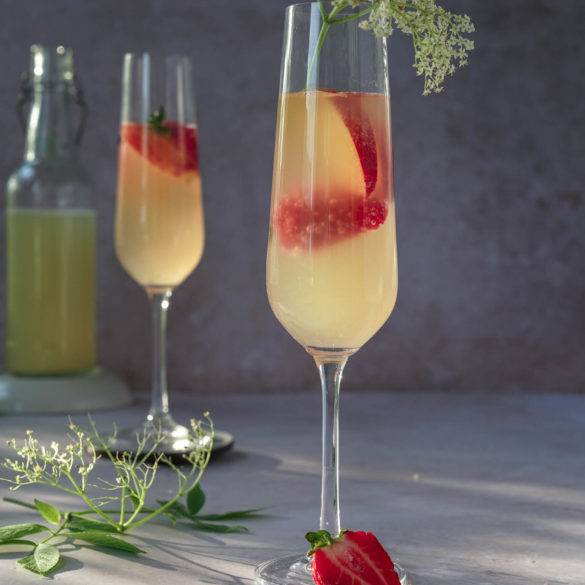 Ingredients
7 to 12 elderflower heads

1 kg unrefined cane sugar

6 litres filtered water

2 lemons, unwaxed

1tsp champagne yeast

2tbs white wine vinegar

You will need

25 litre fermenting bucket (with airlock)

Sanitiser

Funnel with muslin

Long handled spoon

Pinch valve clip

Syphon tube

12 x 500ml swing top glass bottles
Instructions
Sanitise the fermenting bucket, drain and allow to dry naturally.
Place the sugar, champagne yeast and water into the bucket
Ensure the blossoms are insect-free and snip the flowers from their stems and place into a large bowl. Set to one side.
Grate the zest of one lemon and place in the bucket with the juice of two lemons and white wine vinegar. Give a good stir.
Put the lid with airlock over the bucket and set to one side for about 7 days.
Sterilise the bottles. And, insert the swing tops.
Place the bucket on a higher surface than the bottles. (Usually, I will place the bucket in the sink and bottles on the floor, with a towel to ensure no unnecessary spillage). Use a syphon tube with pinch valve clip to drain and a funnel with the muslin.
Line the bottles and drain the champagne into the bottles. Work quickly to ensure the bottles do not overflow. (Normally, I rope in a friend to help me in my hour of need). Leave a gap of about 2 inches between the top of the bottle and the champagne.
Seal the glass bottles with the swing top and place in the cardboard box the bottles would have come in. Set to one side in a cool dark place for a week.
A week later, grab some dishcloths and very slowly let the pressure out of each bottle. I usually do this in the sink in a large pan. Do not rush this as you will end up spraying everywhere and losing a substantial amount of the champagne. So, take your time.
Allow the bottles to stand for about 20 minutes to allow the fizz to fizzle out. Return the swing top and return to the cardboard box.
Leave for about 4 weeks to allow the flavour to develop.
Chill and serves. Although, unnecessary add fruit to the serving.