Sprouted Chickpea Tartare is another one of those lush appetisers. What I love is sprouted nature of the chickpeas which add subtlety to the other intense flavours of the pomegranate and the milder sumac.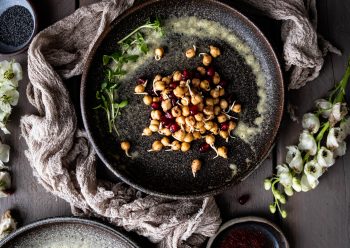 Ingredients
200g chickpeas
2tbs olive oil
2tbs pomegranate molasses
3tbs cider vinegar
1tsp sumac powder
1tsp poppy seeds
½ pomegranate, seeds
Instructions
Sprout the chickpeas by soaking in water for 24 hours. Drain the chickpeas and place in a colander over a bowl. Cover with a cloth for 48 hours at room temperature. The chickpeas should start to sprout.
When ready, make the marinade together the oil, molasses, vinegar, sumac and poppy seeds.
Toss in the pomegranate seeds and chickpeas to the marinade. Leave to marinade for at least an hour.