Sprouted Chickpea Tartare infused with pomegranate, molasses, cider vinegar sumac and poppy seeds and drizzled in oil.
Indulge in pure ecstasy. And, ingest.
This dish will topple your belief that vegan food can't be super lush and delicious.
Make this:
When you've had a hole puncture in your bike and a dish that will lift your mood with raw pranic energy
When you've got a potluck even that's simple to put together, takes little time and be wowzers for your event
When you fancy a little protein but without the effort of cooking your pulses
Sprouted Chickpea Tartare was inspired when sprouting chickpeas and wanting to create a dish with complementary flavours. What I love is sprouted nature of the chickpeas which add subtlety to the other intense flavours of the pomegranate and the milder sumac.
Chickpeas are cultivated to Asia and the Mediterranean.  Drought impervious and free from most pests, they make a great cheap addition to you pantry.  Chickpeas are rich in protein and essential amino acids.
Sprouted Chickpea Tartare is vegan, a condiment and raw.
What equipment to use
For this recipe, I suggest:
There isn't any for this one – (other than making the raw crackers; I use dehydrator for those).
What to do next
Tag me on @ethiveganquantum on Instagram to show me what you've made and let me know you're happy for me to share.
My recipes are featured in vegan speciality publications: Nourished, Vegan Life, Plant Based and Vegan, Food and Living.
Order my first self-published book, "Essence: The Beginner's Guide to Veganism" part of the three-part Circle of Food series. My second book "Presence: The Ascending Vegan" – which explores how to maintain a vegan practice is out in 2027 – I have compiled all the chapters including recipes.
Going strong since 2013.
Love.
Edward x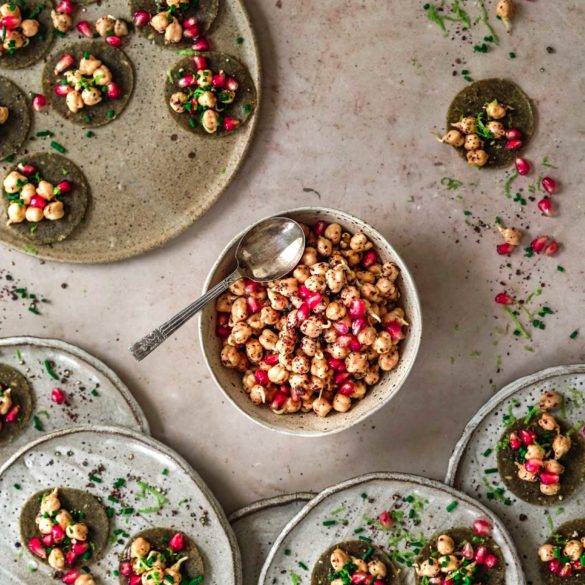 Ingredients
200g chickpeas, dried

2tbs olive oil

2tbs pomegranate molasses

3tbs cider vinegar

1tsp sumac powder

1tsp poppy seeds

½ pomegranate, seeds

½ lime, juice

Garnishing

Few stalks of chives, chopped
Instructions
Sprout the chickpeas by soaking in water for 24 hours.
Drain the chickpeas and resoak in fresh water for a further 24 hours.
Redrain and place in the chickpeas in a colander over a bowl. They should be sufficiently rehydrated. Cover with a cloth for 48 hours at room temperature. The chickpeas should start to sprout.
When ready, make the marinade by pouring oil, molasses, vinegar and lime into a bowl. Toss in the sumac and poppy seeds. Mix well.
Toss in the pomegranate seeds and chickpeas into the marinade. Leave to marinade for at least an hour.
Serve garnished with chives.
Store any excess in a sealed container and consume with three to four days.