Cherry Pie takes me on a journey to my past. I love how the taste of cherries sandwiched between pastry with a dash of custard just elevates my mood. This Cherry Pie is gluten-free and it has this wonderful embellishment of flavours.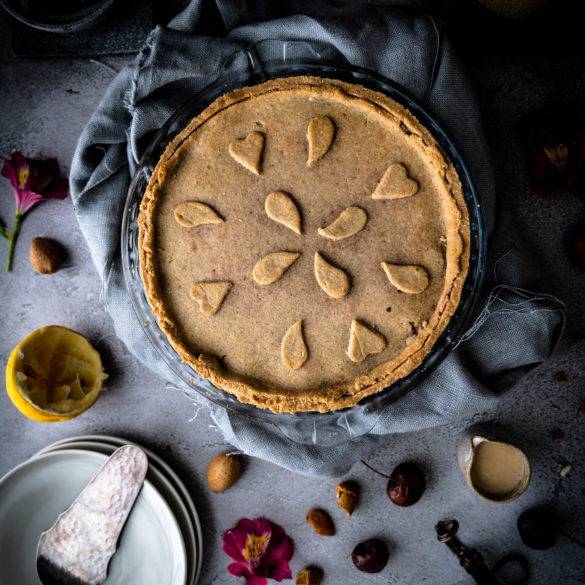 Ingredients
Filling
800g cherries, pitted
100ml maple syrup
½ tsp vanilla essence
zest of 1/8 lemon
Dry ingredients
100g amaranth seeds
50g oats
25g flaxseeds
25g raw unrefined cane sugar
Pinch of salt
75g tapioca
75g potato starch
Wet ingredients
30g prune puree
8tbs filtered water
40g coconut oil
Olive oil for lining
Instructions
In chopper roughly chop the cherries, maple syrup and lemon juice in processor.
Pre-heat the oven to gas mark 180 degrees Celsius or if you have a fan oven 160 degrees Celsius.
Place the dry ingredients into a processor or blender and blend until fine. Place into a large mixing bowl.
Toss in the prune puree and mix with hands. Next add the water. Continue using the hands. Then add the oil and knead into a bowl. Weigh the dough and separate into half.
Line a large pyrex or tart dish with oil to ensure that the dough doesn't stick.
Place a dough between two baking sheets and roll into a circle – the circle should be large enough to cover the base of the pyrex or tart dish. Cut away any excess. Prick the base with a fork all over. Bake the base in the oven for 10 minutes. Remove from the oven.
Roll the second dough ball between two baking sheets and into a circle large enough to cover the surface of the dish
Add the cherry filling to the base of the dish. Gently place the dough on top. Baste the top with some olive oil. Bake in the oven for around 30 minutes.
Serve with vegan cream or ice-cream.
Notes
By Edward Daniel, Vegan Chef and Former Chair of The Vegan Society. Contributor to Vegan Life Magazine, Plant Based Magazine, Vegan Food and Living Magazine and OK! Magazine. Speaker and cooking demonstrator at Vegan Life Life Festival London, Mind Body and Spirit Festival London, Veganes Sommerfest Berlin, and Bali Vegan Festival. Author of "Essence: The Beginner's Guide to Veganism".