Homemade Vegan Gnocchi is just mouth-watering and has a soft gooey texture that melts in the mouth when eaten. This dish reminds me of days gone by.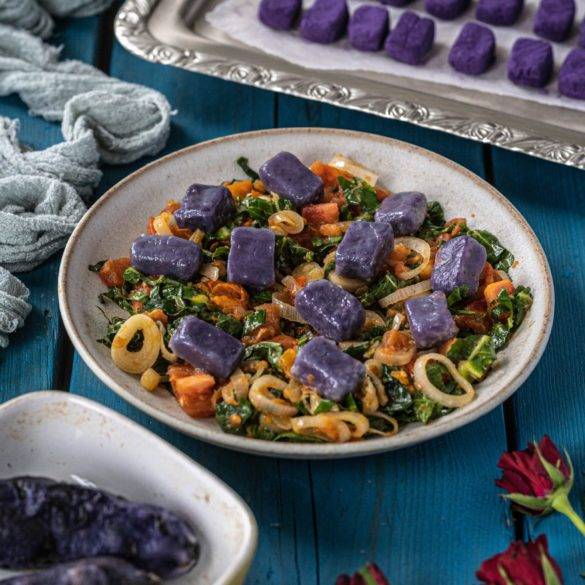 Ingredients
300g potatoes
25ml filtered water
25g olive oil
10g oats, ground
100g tapioca flour
Pinch salt
Instructions
Pre-heat oven to gas mark 180 degrees Celsius or if a convention oven to 160 degrees Celsius.
Parboil the potatoes in boiling water for 10 minutes. Remove and drain.
Place the potatoes in an ovenproof dish. Using a pastry brush, baste the potatoes in olive oil. Cook in the oven for 20 minutes. Allow to cool. Remove the skin and place in a food processor and add in the filtered water and olive oil. Blend in fine.
Place the potatoes in a large mixing bowl.
Ground the oats in high-speed blender. Knead into the dough. Add the tapioca flour a little at a time and continue knead.
Measure out the dough and take about 10g at a time and roll into a ball and then use a fork to form a groove in the gnocchi.
Line a tray with parchment paper and place the rolled gnocchi on top.
Once all the gnocchi are formed, leave to rest for an hour.
Bring water to the boil. Add some salt and boil the gnocchi for 4 minutes only and remove.
Serve immediately with sauce of your choice.
Notes
By Edward Daniel, Vegan Chef and Former Chair of The Vegan Society. Contributor to Vegan Life Magazine, Plant Based Magazine, Vegan Food and Living Magazine and OK! Magazine. Speaker and cooking demonstrator at Vegan Life Life Festival London, Mind Body and Spirit Festival London, Veganes Sommerfest Berlin, and Bali Vegan Festival. Author of "Essence: The Beginner's Guide to Veganism".