Pillowy aniseed Fennel Pakora embedded with pomegranate seeds, mango, cumin and lemony coriander.
Get all whimsical and footloose with your drive.
What spices do you use to flavour your pakora?
This dish will obliterate any belief that vegan food can't taste this full of flavour.
Make this:
When you're filing your nails and rather spend more time getting ready for the party you are hosting
When you're dishing the dirt on all those quips, you're making at the public speaking event; a nice entree to slosh down your drink will do nicely
When you've got a pre-drinks party before Pride march and need an appetiser to go with that Elderflower Champagne you've brewed
Fennel Pakora was inspired by my father who makes the best Indian food ever; full of flavour, richness and decadence but awesome too. My father makes the finest pakora laden with dried pomegranate seeds and mango powder.  There is a certain finesse to making authentic pakora.
Pakora is a spiced fritter.  It's popular in fast food joints but what I love is its simplicity and unfathomable taste and self-indulgence. Ketchup, vegan mayonnaise, sweet chilli and raita yoghurt all go hand in hand – but these are just add ons.  The star attraction is the Fennel Pakora which simple bathes in its own glory.
Fennel Pakora is vegan, gluten-free and Indian cuisine.
What equipment to use
For this recipe, I suggest:
Stove
What to do next
Tag me on @ethiveganquantum on Instagram to show me what you've made and let me know you're happy for me to share.
My recipes are featured in vegan speciality publications: Nourished, Vegan Life, Plant Based and Vegan, Food and Living.
Order my first self-published book, "Essence: The Beginner's Guide to Veganism" part of the three-part Circle of Food series. My second book "Presence: The Ascending Vegan" – which explores how to maintain a vegan practice is out in 2027 – I have compiled all the chapters including recipes.
Going strong since 2013.
Love.
Edward x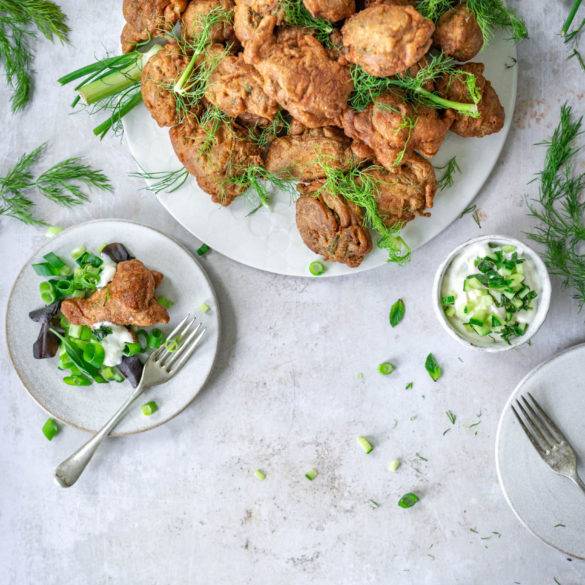 Ingredients
1 large fennel bulb or 2 medium bulbs

400g garam/chick pea flour

200ml yoghurt

300ml filtered water

½ lemon, juice

Few sprigs of coriander leaves

1tbs dried pomegranate seeds

1tsp fennel seeds

1tbs cumin seeds

2tbs mango powder

1tbs garlic powder

1tbs onion powder

½ tsp ginger powders

½ tsp salt

½ tsp black pepper

1tsp bicarbonate of soda

Sunflower oil for frying
Instructions
Sieve the garam flour into a large mixing bowl.
Grind the pomegranate, fennel and cumin seeds, salt and pepper and transfer to the mixing bowl.  Add in the garlic, onion and ginger powders, and bicarbonate of soda. Mix well.
Use a mandolin or slicer to thinly slice the fennel and toss into the dry ingredients.
Fold in the yoghurt. Then water and lemon juice. And, lastly add in chopped coriander leaves.  Cover and set to one side for at least 30 minutes.
In a large wok or deep fat fryer bring the oil to heat.  Drop a spoonful of dough into the mixture.  The first one is just an attempt to see how hot the oil is.
Then drop spoonfuls of batter into the oil and batch fry the pakoras. Have kitchen paper covering a plate to catch any excess oil.
Serve warm with raita, ketchup or anything that takes your fancy.
You can cover and leave the batter in the fridge for a couple of days and use as needed.