Get something moist down your throat. And, savour.
Fudgy nutty Pumpkin Brownies enriched with pumpkin flesh, ground almonds, coconut flakes and cacao powder.
This dish will tumble your belief that vegan food can't be super yummy.
Make this:
When you've got an afternoon tea party at the Ladies' social club and need a dish that'll have giving you their knitting needle
When you've got a bon fire or firework display and a soft moist brownie that'll warm you up with a cuppa will appease your hunger pangs
When your kiddies need a little treat packed into their luncheon box and will have them smiling cheek to cheek
Pumpkin Brownies was inspired when visiting Battle with a friend and walking round the twee coffee shops and bakeries scattered.
Pumpkin Brownies are lush and moist. I love how these Pumpkin Brownies melt in the mouth.  Pumpkin and chocolate, what a juxtaposed combination.
Blanched almonds, I purchase from a nifty Asian outlet in Hayes.  It has an online presence too which can be found here – I love it because it is reasonably priced and tends to be good quality stuff which I use.
Pumpkin Brownies is vegan, paleo and gluten-free.
Love.
Edward x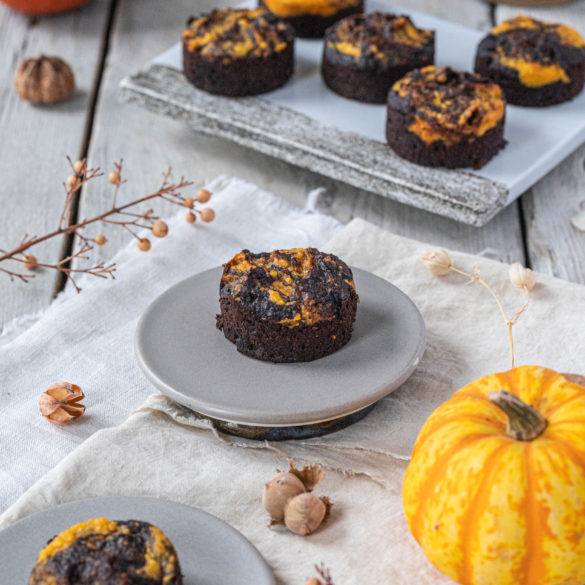 Ingredients
400g pumpkin

50ml olive oil

100g almonds, blanched ground

25g millet

50g coconut flakes, ground

50g cacao powder

100g raw unrefined cane sugar

Pinch of salt
Instructions
Pre-heat oven to 180 degrees Celsius or if you have a convention fan, to 160 degrees Celsius.
Place the pumpkin a baking tray and bake for 45 minutes. Remove and allow to cool. Discard skin and seeds and weigh 400g of pumpkin flesh.
Line a cake tin with olive oil or a 12 mini cake tray.
In a food processor, blend the pumpkin flesh with oil. Place in a large mixing bowl.
In a high-food processor grind the almonds, millet coconut flakes, sugar and salt. Transfer to the mixing bowl and swirl in with a spatula.
Tip out about 4 tablespoons of orange dough into a separate bowl. Add in the cacao powder to the main mixing bowl. Mix well and pour into the baking tray.
Swirl in the orange dough in to the baking tray/
Bake in the oven for 25 minutes.
Remove from the oven and allow to chill.
Serve.