Pumpkin Brownies are lush and moist. I love how these Pumpkin Brownies melt in the mouth.  Pumpkin and chocolate, what a juxtaposed combination.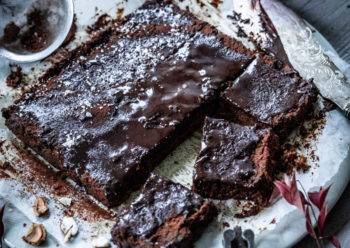 Ingredients
400g pumpkin
50ml olive oil
100g almonds, ground
50g coconut flakes, ground
50g cacoa powder
100g raw unrefined cane sugar
Pinch of salt
Garnishing
50g dark Chocolate
Cacao powder
Coconut flakes, ground
Instructions
Pre-heat oven to 180 degrees Celsius or if you have a convention fan, to 160 degrees Celsius.
Place the pumpkin a baking tray and bake for 45 minutes. Remove and allow to cool. Discard skin and seeds and weigh 400g of pumpkin flesh.
In a food processor, blend the pumpkin flesh with oil. Place in a large mixing bowl.
In a high-food processor grind the almonds, coconut flakes, sugar and salt. Transfer to the mixing bowl and swirl in with a spatula.  Add in the cacao powder.
Line a cake tin with baking parchment.
Bake in the oven for 30 minutes.
Remove from the oven and allow to chill.
Melt chocolate in a glass bowl over a sauce pan of water. Pour the melted chocolate over the brownies. Allow the chocolate to set.
Sieve over some cocoa powder and sprinkle some coconut flakes.