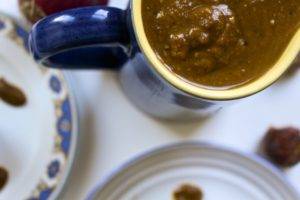 Chestnut Gravy
Chestnut gravy is a luscious unconventional accompaniment to dishes. The sauce is thick and yet retains the subtle flavour of the chestnut. For me, chestnuts pervade the senses. I use fresh chestnuts. Admittedly, shelling the chestnuts is time consuming – so be warned if you decided to do this recipe that way – I feel you. Though, you could use pre-cooked chestnuts as a substitute if you don't want to go through the hustle of shelling.
Ingredients
250g chestnuts (or 300g pre-cooked deshelled chestnuts)
1kg red onions
2 bulbs of garlic
4tbs olive oil
500ml bean stock (use the remnant water taken from beans such as haricot, kidney beans, cannelloni that have been cooked from their dry state)
Instructions
Pre-heat the oven at 180 degrees Celsius.
Place the whole chestnuts in a large pan with boiling water. Cover and simmer for about 25 minutes. Drain and allow the chestnuts to cool.
Place the red onions and garlic. Drizzle over the oil. Cover with aluminium foil. Roast for about an hour. (If there are any brown charred bits at the bottom of the tray, add some of the bean stock, stir and make into a paste. If necessary place the tray over the stove on a low heat to get a better result)
De-shell the chestnuts.
Remove the skin off the garlic. Place in a food processor with the onions and chestnuts. Whizz to a fine consistency.
Add the bean stock.
Serve your gravy as an accompaniment to a desired dish.
EthiVegan by Edward Daniel
What future would you like to paint? What I say is that it is possible to lead a fulfilling life by going within, living in alignment, letting go of the past and thriving on a vegan diet.
If you want to uncover your purpose and live a more enriching life, why not purchase my book "Essence: The Beginner's Guide to Veganism"?
To order your copy of "Essence: The Beginner's Guide to Veganism" click here
Subscribe to my EthiVegan Youtube channel – click here
For more information about me, Meet the author – click
Thanks for viewing my recipes and interviews.
Love you all.
Edward x
Edward Daniel | Servant to Humanity | Second Wave | Chef | Media IT IP Solicitor | Author | Presenter | Former Chair, The Vegan Society